Programming Changes at Morgan's Radio Station Aim to Increase Student Participation
Kweisi Mfume, chair of Morgan State University's Board of Regents, has 40 years of recollections from a career in public service that includes long tenures on the Baltimore City Council, in the U.S. House of Representatives and as president and chief executive officer of the NAACP. But those challenging experiences have not dimmed his memories of the struggle to launch Morgan's radio station in the 1970s.
"I was a student here, and we were hoping and praying that we would have a station before we graduated in '76," Mfume says. Howard University had started WHUR Radio in 1971, which was "quite a blow," he adds with a laugh, citing the historic rivalry between the two Historically Black Institutions. "There were about six or seven of us (involved in the effort)."
The prospects were daunting for the student group that made its appeal to MSU President Andrew Billingsley. Finances were tight for the University's existing, core activities, let alone for a new radio station not included in the budget. But after 10 months of petitioning by the students, Billingsley agreed to help move the project forward.
Next came a protracted battle with the Federal Communications Commission to obtain the broadcast license for the station and, when the FCC finally relented, a dispute over the new station's call letters.
"They were about to give us any set of call letters. And we said no," Mfume recalls. "We wanted WEAA: We Educate African Americans."
The "student" advocates for WEAA were recent MSU graduates when the station first went on the air with its provisional license to broadcast 18 hours a day.
"I threw the switch, Jan. 10th, 1977 at 3 o'clock in the afternoon, and it came on, broadcasting. And thankfully, that switch has not gone off. The station is still there…." Mfume says. "I was the program director and an on-air personality at the time."
WEAA 88.9 FM now broadcasts 24 hours a day, seven days a week with a signal that reaches much of the state and an audience of thousands of listeners. The public radio station celebrated its 40th anniversary with a concert and other activities in 2017. More than just another media outlet, the station is considered a vital community institution by many listeners in Baltimore and beyond.
But even in WEAA's earliest days, Mfume says, its programmers were looking far ahead and anticipating change.
"…Just as we put together that very first programming format, trying to designate hours and designate times and designate slots, we knew that what we were doing in January of 1977 would have to evolve. And whether that evolution was every two years or every five years or every 10 years, there had to be an evolution, because the world was evolving, the community was evolving, and their aspects and their listening habits were evolving. And the society was evolving and changing."
Change Has Come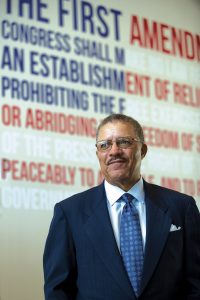 DeWayne Wickham concurs. Wickham, a veteran journalist who has worked with USA Today and other prominent media organizations, is dean of Morgan's School of Global Journalism and Communication (SGJC), of which WEAA is a part. In October 2017, he announced a major redo of the station's programming lineup, including an expansion of news and talk show content, schedule changes for several music programs and new times for the syndicated programs Democracy Now! and Latino USA. New on-air voices included Karsonya ("Kaye") Wise Whitehead, Ph.D., of Today with Dr. Kaye; Faraji Muhammad of For the Culture; Joshua Johnson of NPR's 1A; Mykel Hunter on Mornings with Mykel and Robert Shahid, host of Masterclass with Robert Shahid, which takes a deep dive into music. The Marc Steiner Show, a longtime feature on the station, was discontinued.
Wickham says he had three goals for the programming changes: to bring more students into WEAA's operations, to strengthen the station's finances and to broaden its audience base. And he adds that WEAA is part of the overall strategy for education of students in the SGJC, which was established in 2013.
"The idea in creating this school was to have three departments where you go into the classrooms and you are taught by…some of the top professionals and academics in our discipline. And each department has associated with it what we call a performance center (on campus), where (students) leave the classroom and can actually apply their knowledge in a professional way," Wickham explains. "So the radio station and our television studio are performance centers for our Department of Multi-Platform Production. The digital newsroom is a performance center for our Department of Multimedia Journalism. And our strategy shop is a performance center for our Department of Strategic Communication."
After some initial resistance to the lineup changes, the station is enjoying increased popularity, Wickham says: comments from listeners are mostly positive, and the station's ratings are up. Today, he says, WEAA has largely achieved the goals of the programming shakeup, including the most important one.
"WEAA is a learning lab," Wickham says. "…We've increased significantly the number of Morgan students who are working at the radio station. We have students who are working with the news operation. We have students who are working in various aspects of production."
"This past semester, we had 10 interns on a variety of  shows and projects," says Malarie Pinkard-Pierre, station manager for WEAA. "They work in our programming, production, membership and underwriting departments, and they use their skills in production, strategic communications and writing to assist us in accomplishing our goals at WEAA." The station also has at least seven SGJC  students in the "PNC WEAA On Assignment" project, providing two-minute audio features, she adds.
"We understand that we are an extension of the School of Global Journalism and Communication…. We have done a great job of making sure students understand that this station belongs to them," says Pinkard-Pierre. "Lately, I have even been seeing kids who don't have communications as a major. They just have great ideas and want to be announcers and host shows. They want media training. MSU students are not mic shy and want to be trained by experts as they develop their brand. They have made the connection that this is what we do at WEAA. The real world of work is across the hall."
Student Participation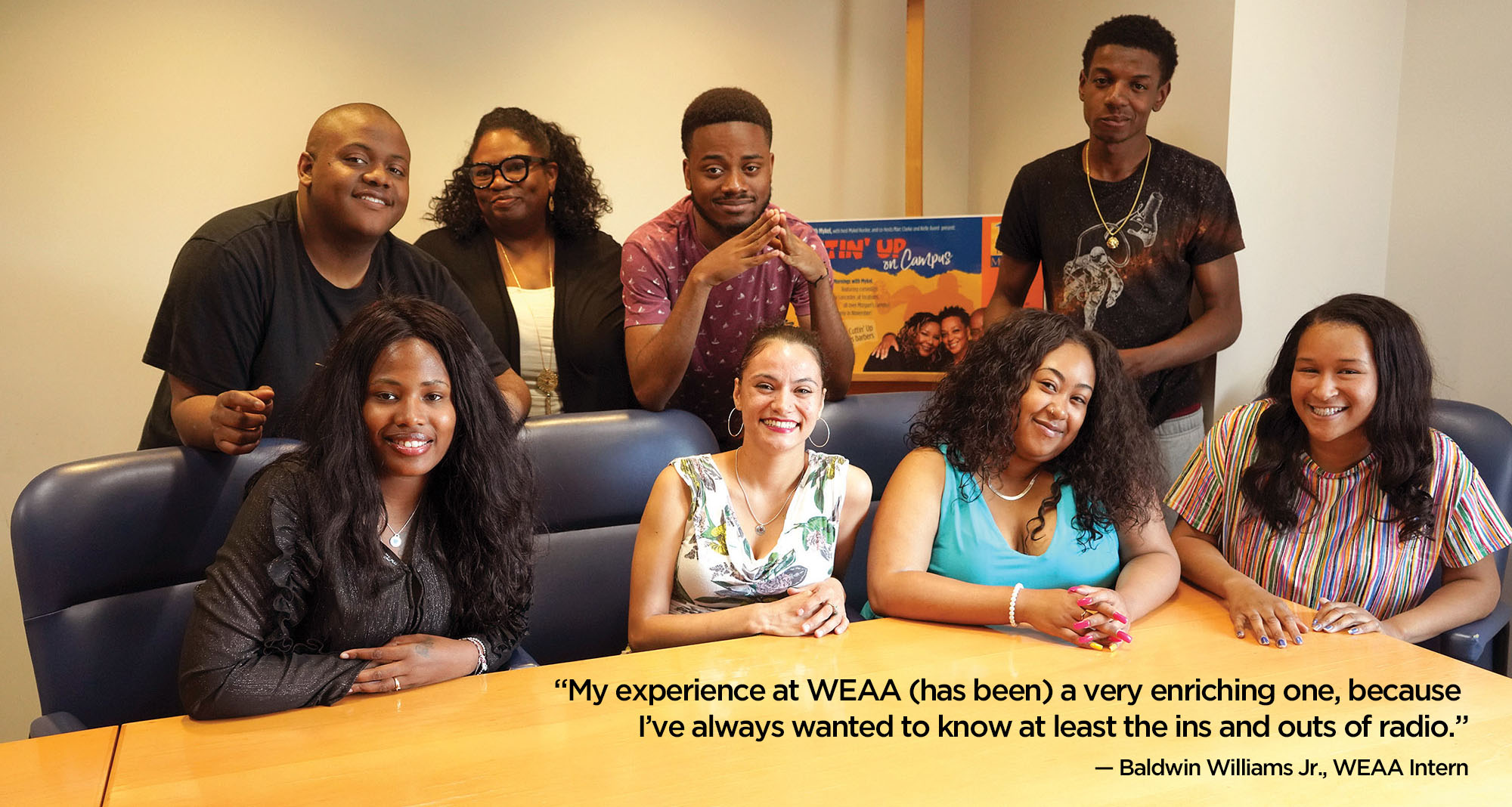 Baldwin Williams Jr. is a multiplatform production major at Morgan and an intern for WEAA's Master Class with Robert Shahid. The junior from Silver Spring, Maryland, is an aspiring producer, writer and voice actor and is still excited about the opportunity he's had to edit interviews and record voiceover promos for the station.
"My experience at WEAA (has been) a very enriching one, because I've always wanted to know at least the ins and outs of radio," says Williams, whose internship opportunity came via Jacqueline Jones, assistant dean for programs and chair of the Department of Multimedia Journalism at Morgan's SGJC. "I said, 'Yes! Yes, absolutely, 110 percent yes.' " Williams continues.
"I'm glad that I was able to get my radio experience here rather than going somewhere else, because it's a station right on campus."
"I tell the students to embrace every opportunity and learn every skill they can," Jones says. "No experience is wasted and can always teach a lesson about the precise skill at hand and important soft skills, including time management, interacting with colleagues and superiors and being exposed to something they had not previously considered as a possible career."
MSU senior Keiswana Williams, another multiplatform production major, hosted the weekly Morgan Mashup student radio show during the Spring 2018 semester. A transfer student from Clark Atlanta University and a native of Gaithersburg, Maryland, she switched her major at Morgan from strategic communications to fulfill her desire to work on-air and behind the scenes in media. Proactive in finding work experience at WEAA, she applied for an internship with Today with Dr. Kaye and was hired.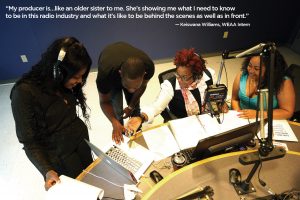 The show's producer then, who was a Morgan graduate, and the show host, Dr. Kaye, gave her the opportunity to learn to produce, write scripts, put together sound clips, edit sound and more, Williams said in April. They also served as her role models and mentors.
"My producer is…like an older sister to me," Williams said. "She's showing me what I need to know to be in this radio industry and what it's like to be behind the scenes as well as in front."
MSU multimedia journalism senior Rodney Mitchell Jr. was in business attire when we talked with him, fresh from an interview for an internship with WJZ-TV in Baltimore. He was hoping his time on-air as cohost of a new WEAA pre-game sports show named MSU Game Day Experience would boost his chances. Stan Saunders, formerly a longtime sportscaster with WJZ, is host of the show. Mitchell hails from District Heights, Maryland, and is also an ROTC cadet at Morgan. He previously landed an internship with Turner Sports in Atlanta through a contact made by one of his Morgan professors. He can't say enough about the opportunities he's gained at WEAA.
"I think WEAA has enhanced my skills 100 percent, from my diction to my professionalism," Mitchell says. "I think the new program changes have allowed students to get so many more opportunities than before. And also vice versa: I think sometimes the students are helping the professionals with, for instance, social media, just keeping them up to date. I think it's been a home run transition for WEAA."
Education First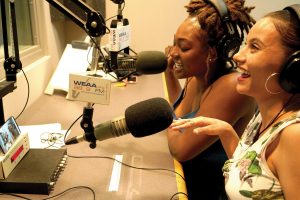 Wickham says that seeing students like Rodney Mitchell, Keiswana Williams and Baldwin Williams progress is what motivates him.
"I'm trying to help these students," Wickham says. "I've had a great professional career. I have worked all over this world. I've covered presidents and kings and prime ministers. And frankly, I'm on the downside of my career, not in a negative way: I've done it all. I've been on Air Force One. I've done all of those things. And so my challenge is to share as much of what I know and what I've experienced with these students whose careers are ahead of them.
"…That's why they come to the University: for the preparation," he adds. "And we ought to be able to give it to them in the fullest way possible."
Mfume agrees.
"Students have to work with on-air professionals and see what they do and how they do it, understand deadlines, understand priorities and understand a news operation, which is so very vital," he says. "And if they're doing that with professionals, they grow immensely."
Mfume names broadcast journalist April Ryan, Baltimore City Mayor Catherine Pugh and MSU sportscaster Lamont Germany as a few of a long list of former Morgan students he worked with as program director at WEAA and who still thank him for the opportunities they received to hone their skills at the station.
"So I believe that the station has to remain a lab for students," Mfume says. "That's the way we began it. That was our original intent. And it also has to be true to the community and allow community access. That was the second most important thing…that we open the door and open the microphones. And it has to find a way to continue to appeal for funding from the private sector and not rely solely on the State of Maryland."
To achieve these goals, he adds, WEAA must continue to evolve.
"Change is about as natural to the universe as anything. The question is, 'Is it good change, is it change for the sake of change, or is it bad change?'" Mfume says. "And as long as it's good change, it's good for the station, it's good for this community, and it's good for Morgan."
Look for this article and other big news from Morgan State University in the February 2018 issue of Morgan Magazine!
Breaking Ground for Northwood Commons
MSU partners with others to revitalize a shopping venue that was once a center of its students' civil rights activism
December Commencement Attracts a National Spotlight
Sen. Elizabeth Warren tells degree candidates that "It's time to change the rules"
Morgan Joins Google in Tech Exchange Program
Five MSU students receive a yearlong learning experience in Silicon Valley
Morgan Professor's Thought Leadership in HIV Prevention
Dr. Lorece Edwards' theory explains high-risk behavior among African Americans
And More!