$1.7 million HRSA Grant to Underwrite Four-Year Initiative
Increasing the diversity workforce in nursing is the focus of a more than $1.7 million grant from the federal Health Resources and Services Administration (HRSA) to the University of Maine School of Nursing, in partnership with Northern Light Health and Morgan State University.
The four-year award by HRSA, an agency of the U.S. Department of Health and Human Services, will address the need to increase nursing education opportunities for individuals from financially disadvantaged and underrepresented ethnic and racial minorities and, ultimately, help address the state's shortage of nurses.
The initiative, Promoting Diversity in Nursing Education, has three goals: increase access to nursing education for racial and ethnic minority and first-generation students; support the academic and professional success of racial and ethnic minority and first-generation nursing students in the bachelor's degree program, and increase exposure and representation of diverse nursing faculty.
A key component in fulfilling the mission of the HRSA-funded initiative will find root here at the National Treasure. Morgan's nursing program, housed within the School of Community Health and Policy, will co-lead a faculty exchange program serving a critical resource in the development of curricula and program activities that are keenly receptive to the social determinants that often impede access to education and academic success of students from diverse, disadvantaged backgrounds.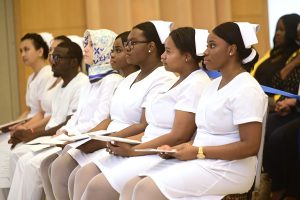 "Our nursing program at Morgan is extremely pleased to be part of this meaningful alliance brought together by a joint commitment to diversity, equity and inclusion — both in theory and in practice," says Maija Anderson, DNP, APRN, SAMFE, director of nursing at Morgan State University. "The HRSA grant award affords us the resources to develop opportunities of mutual benefit, to include short- and medium-term exchanges for faculty teaching across the nursing curriculum, as well as advance workforce diversity in the nursing profession."
"A priority of the initiative is to capitalize on the social, cultural, and ethnic resources for in-state student diversity," says Kelley Strout, director of UMaine's School of Nursing and principal investigator on the initiative that will include first-generation college students. "Increasing diversity of both students and faculty will prepare graduates to meet workforce needs fully."
Participating Morgan faculty will focus initially on how best to support high-risk students, creating — in partnership with UMaine and Northern Light Heath — training and learning opportunities for faculty. The long-term goal is to have semester-long faculty exchanges between the UMaine School of Nursing and MSU's nursing program.