More Than 1,500 Return to the National Treasure for the Long-Anticipated Reprise of 'Pomp and Circumstance'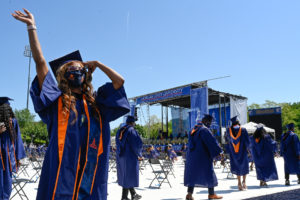 BALTIMORE — May afforded the Morgan State University (MSU) family a break in the clouds, and blue skies, both literally and figuratively, for the graduation ceremonies of Maryland's Preeminent Public Urban Research University and largest Historically Black College or University this spring. As expected, the global coronavirus pandemic made a major impact on tradition this year, as Morgan held three commencement events on campus in Hughes Stadium, with appropriate social distancing," facemask requirements and other measures to protect public health. More than 500 bachelor's degree candidates who became MSU graduates in Spring or Fall 2020 received in-person recognition during the long-postponed 143rd Spring Commencement Exercises, which were held on the morning of Friday, May 14. That afternoon, 350 of Morgan's Spring and Fall 2020 master's and doctoral degree recipients and Spring 2021 master's and doctoral degree candidates were honored during the Commencement Exercises for the School of Graduate Studies. Morgan's undergraduate Class of 2021 had its day in the sun on the morning of Saturday, May 15, at the 144th Spring Commencement Exercises, as 600 bachelor's degree candidates gathered in a joyous demonstration of "resilience," which was aptly dubbed "the word of the year" by the keynote speaker, Michael V. Drake, M.D., president of the University of California (UC).
MSU President David K. Wilson and MSU Board of Regents Chairman Kweisi Mfume conferred honorary Morgan degrees during the May 15 event, to Dr. Drake, who received a Doctor of Laws, and to jazz great Lonnie Liston Smith of Morgan's Class of 1961, who received a Doctor of Fine Arts.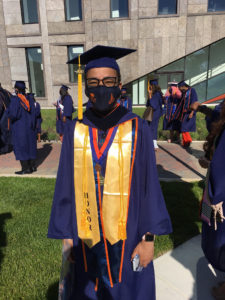 The numbers in Hughes Stadium made up an impressive percentage of the 2,348 scholars —including 71 doctoral candidates (the third consecutive year Morgan has awarded more than 70 doctoral degrees) — who received degrees from MSU during the COVID crisis from Spring 2020 through Spring 2021. Ayanna Culmer-Gilbert, who earned her Bachelor of Science in Chemistry from Morgan in May 2020, exemplified the determination of the group. Originally from Nassau, Bahamas, she traveled back to Baltimore for the ceremony from her current home at the University of Indiana, where she is working toward a Ph.D. in her field and hoping to one day use her knowledge of materials, catalysis and synthesis to help develop clean energy. She said her experience as an international student at Morgan was "really great. I met a lot of good people, friends, a great support system. I really enjoyed my time here."
The attendance of the commencement speaker, Dr. Drake, head of UC's renowned system of 10 campuses, likewise spoke to perseverance. Originally slated to speak at MSU's commencement in May 2020, he took his first cross-country plane ride in a year to deliver an address that highlighted the importance of vision, resilience, hard work and good guidance, as well as his family's connection to Morgan.
Dr. Drake's father was a gifted athlete who was transformed from a standout high school football prospect to an outstanding scholar-athlete, and later a distinguished physician, after meeting his academically focused future wife when they were both undergraduates on the campus of an HBCU in the 1930s, he told the commencement attendees.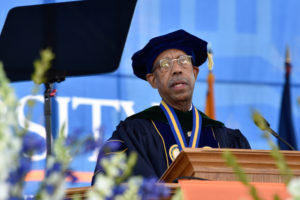 "For as long as I can remember, Morgan State has been the definition of what a college (is), for me. And that's because both of my parents are Morgan State alumni," said Dr. Drake. "…Morgan shaped the course of their lives and their futures and the futures of their children and grandchildren and great grandchildren, and, actually, my father lived to see a great-great grandchild."
"…This historic institution has had a wonderful impact on the lives of so many people in so many communities," he continued. "That's evident here today…. Morgan State will serve you well into the future, and perhaps at some time 50 years or maybe even, (as) in my case, even 84 years from now, your children or grandchildren will be standing on a stage like this talking to the next generation coming forward."
MSU Board of Regents Vice Chair Larry R. Ellis, retired four-star U.S. Army general and 1969 graduate of Morgan, spoke of the University's positive "transformation," and maintained the theme of resilience, during his remarks to the degree candidates at the May 14 commencement events.
"You earned this moment through all of the hard work, overcoming obstacles, relentless study and committing to rigorous coursework and research, so don't let anyone tell you that it was given to you," Gen. Ellis said. "Perseverance through adversity is the key to succeeding in battle, and in life."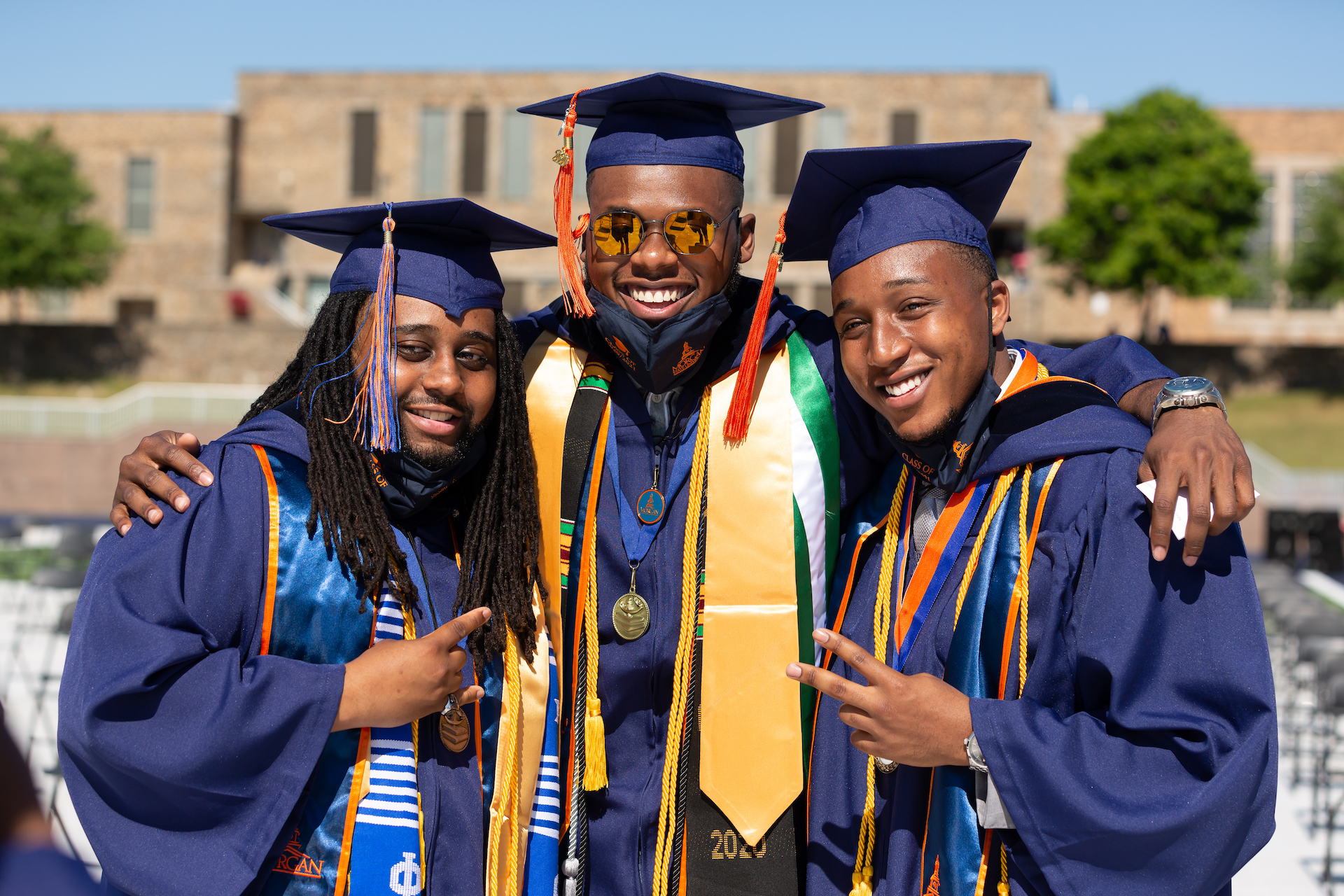 MSU Provost and Senior Vice President for Academic Affairs Lesia Crumpton-Young recognized the senior honor graduates for Spring and Fall 2020 and Spring 2021 during the two undergraduate commencement exercises. Other honorees at the undergraduate ceremonies included Cameron Potts (B.S., Multimedia Journalism) and Erin Miles (B.A., Sociology) who received the President's Second Mile Award — an annual recognition of outstanding leadership and participation in student affairs — for 2020 and Spring 2021, respectively; Marvellous Oke (B.S., Psychology) and Oyare Oko (B.S., Electrical Engineering), who received the President's Award for Exceptional Creative Achievement for 2020; and David Owe (B.S., Architecture and Environmental Design), who received the President's Award for Exceptional Creative Achievement for Spring 2021.
Maj. Malika Morgan, chair of MSU's Department of Military Science, recognized the 18 bachelor's degree candidates commissioned into the U.S. Army as second lieutenants in Spring 2021 through Morgan's Bear Battalion ROTC program, the largest of Maryland colleges and universities, producing the most commissioned officers — 51% of the officer candidates in the Maryland National Guard.
As always, inspiring remarks from their peers were part of the commencement agenda for the graduates: 2020 Senior Class President Imani Dews; doctoral candidate Tenyo Pearl; master's degree candidate Victor Opadeji; and 2021 Senior Class President Jordan Dawson each gave a Salute to the Graduates. MSU Alumni Association President Phyllis Davis inducted the new graduates into the association at the two undergraduate ceremonies, before President Wilson's closing remarks.
Videos of Morgan's Spring 2021 commencement ceremonies are available for viewing in their entirety via the links below:
Additional photographic highlights of the two-day slate of ceremonies can be viewed online here.
About Morgan
Morgan State University, founded in 1867, is a Carnegie-classified high research (R2) institution offering nearly 120 academic programs leading to degrees from the baccalaureate to the doctorate. As Maryland's Preeminent Public Urban Research University, and the only university to have its entire campus designated as a National Treasure by the National Trust for Historic Preservation, Morgan serves a multiethnic and multiracial student body and seeks to ensure that the doors of higher education are opened as wide as possible to as many as possible. For more information about Morgan State University, visit www.morgan.edu.
#      #      #
Media Contact(s):
Larry Jones or Dell Jackson, University PR
(443) 885-3022