University to Collaborate with Maryland Department of Health, Offering up to 390 Doses of Pfizer Vaccine Per Day During Weekends, Beginning on April 30
As part of an ongoing State of Maryland effort to expand access to vaccines, Morgan State University has been selected to serve as a community vaccination site in northeast Baltimore. Morgan's location and connection to communities throughout Baltimore are anticipated to be instrumental in providing more Maryland residents with an opportunity to be vaccinated, curtailing the spread of COVID-19. Under the guidance of the State's Vaccine Equity Task Force, the University is collaborating with the Maryland Department of Health and clinical partner Privia Medical Group to offer up to 390 doses per day of the Pfizer vaccine during weekends (Friday, Saturday, Sunday), beginning April 30. Morgan will host the vaccinations, which will be open to all tier groups and available by appointment, on campus within the University Student Center, in the Calvin and Tina Tyler Ballroom. Free parking will be available in the Morgan Commons Garage connected to the student center.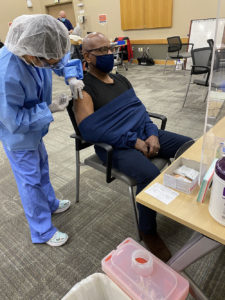 "We appreciate the State's recognition of Morgan State University's value as a vital resource and location in expanding access to critical vaccines at the community level," said Morgan President David K. Wilson. "The familiarity with the University within communities throughout the city and the high regard that many have for Morgan as an anchor institution will further public confidence increasing the likelihood that individuals will receive the vaccine. Morgan is the right collaborator to advance the role of science in the fight against the spread of COVID-19."
Those interested in scheduling their vaccination at Morgan should visit the State's GoVax site massvax.maryland.gov online and select Morgan State University as their preferred site location for the vaccine when it becomes available as an option. Individuals without internet or computer access may make appointments by calling 855-MD-GoVAX (855-634-6829) or by walk-in registration. In addition to the broader community, Morgan's students, faculty and staff will be eligible to receive vaccinations at the site.
Per the agreement between the University and the Maryland Department of Health, the State will manage all critical aspects of the vaccination site, including the relationship with the clinical partner and custody of the vaccines. For its part, Morgan will provide the infrastructure, security and volunteers where needed.
About Morgan
Morgan State University, founded in 1867, is a Carnegie-classified high research (R2) institution offering nearly 120 academic programs leading to degrees from the baccalaureate to the doctorate. As Maryland's Preeminent Public Urban Research University, and the only university to have its entire campus designated as a National Treasure by the National Trust for Historic Preservation, Morgan serves a multiethnic and multiracial student body and seeks to ensure that the doors of higher education are opened as wide as possible to as many as possible. For more information about Morgan State University, visit www.morgan.edu.
# # #
Media Contact(s):
Larry Jones or Dell Jackson, University PR
(443) 885-3022