Dear Morgan Family,
Today, I write to express my sincere appreciation to everyone who worked so assiduously over the past several months to prepare and support our campus in being a State of Maryland voting site. What we were able to accomplish and the role we were able to serve as part of the election process in our city is testament to the trust that the community has in Morgan. People of all ages, races and backgrounds chose Morgan as the location to cast their vote in this very important election and based on information that has been shared with me, of the eight early voting sites in Baltimore City, our campus saw the largest turnout with more than 13,300 people having voted. This is a proud moment for our University and an honor for us to have played such a significant role in civic engagement.
While a number of election outcomes are still to be determined, others, particularly in our City of Baltimore, have already been revealed. Congratulations to U. S. Congressman Kweisi Mfume, who is also Chair of the Morgan Board of Regents, in winning re-election; Brandon Scott, our new Mayor, Nick Mosby, the new Baltimore City Council President; and all of the rest of the national, state and local leaders who emerged victorious. We look forward to working with all of them to continue advancing our beloved National Treasure.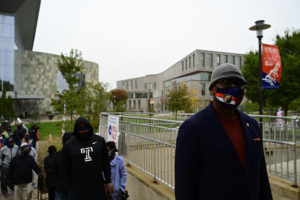 Regardless of how you voted in this election, the one thing that the national voting results have exposed is that we are a very divided nation and there's a lot of work that still needs to be done if we are to truly be a United States. I hope that all of you that waited in line to vote, or to cast your vote by mail or by drop-off, recognize that with the razor thin margins we are seeing in several election contests, that your vote matters. As Americans, we are at a pivotal moment in our democracy, teetering on becoming a country that embraces a culture of misinformation, voter suppression and erosion of a belief in facts, and this is something that we cannot allow to happen. As such, we here at the National Treasure must remain steadfast in our vision to grow the future and lead the world by example and to always reflect our six core values in everything that we do.
Be not discouraged by whichever way the presidential election officially concludes, for it is incumbent upon each of us to help figure out how we as a diverse nation will continue along a path of common prosperity and common ideals for the common good — a path essential to a strong and vibrant democracy. This moment may prove to be a promising one for our University, setting up a fortuitous opportunity to begin a thoughtful and very intentional national dialogue around some very important questions, such as: What does it mean to be an American today? What are our values as a nation? How do we keep our democracy intact? How do we close the racial, economic and educational divide? How do we stop the demonization of citizens that has become so much a part of the lexicon of some national leaders?
After the national election in 2016, I wrote an op-ed for the Baltimore Sun, which I share again with you: https://www.baltimoresun.com/opinion/op-ed/bs-ed-hbcu-wilson-20161224-story.html?outputType=amp
Every tomorrow offers new opportunities. Stay Morgan Strong!
With much respect,

David Wilson
President