Members of the Morgan State men's and women's track & field team, along with coaches and staff, got up bright and early to pass out water and other drinks to runners in the 18th Baltimore Running Festival, known as one of the best races on the East Coast.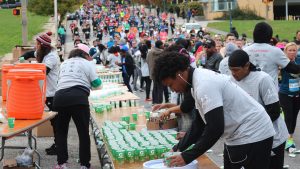 "The Baltimore Running Festival was a great opportunity for us to give back to the community," said MSU Assistant Coach Janice Smythe. "We thought this was the perfect opportunity for our student-athletes to get involved and do something different.  They did really well on Friday at the packet pickup, and the race on Saturday was even better at the water stop. They had a great time volunteering, cheering on the runners and bonding with their teammates."
MSU's track team had 24 student-athletes volunteers on Friday at the Convention Center for the packet pickup, followed by 22 during Saturday's race.
This year's Baltimore Running Festival Marathon started on the shores of Baltimore's famed Inner Harbor and was complete with a live band and 10,000 fans.
"Volunteering in the Baltimore Running Festival gave me a different appreciation for giving back," said sophomore Anaya Moore. "They were telling us 'thank you for volunteering and cheering them on', which makes it all worth it and it just felt right."
"It felt good to represent Morgan State in ways other than athletics, and to help the community that supports us in many ways than we realize."