Cpl. Milton Johnson, a 15-year veteran of the Morgan State University Police Department (MSUPD), says it took major surgery to get him to the most satisfying part of his career.
"I had both of my hips replaced, and I was off from work for a year (to recover), said Johnson.
When he came back to work this past February, he was still in pain, but, he said, he told himself, "I can't just sit."
Johnson was already certified to work as one of the two or three MSU Police officers per shift who patrol the campus by bicycle, so he joined the bike detail.
"The chief (Lance Hatcher) was like, 'You sure you're going to be all right?' I said, 'Yeah! I'm going to be good.' "
"I'm letting them know that this is their next stage of life."
— Cpl. Milton Johnson, MSU Police Department
The bike patrol turned out to be effective physical therapy, and more.
"One day (in July), I was up near the new Communications Building, and I saw two kids from the neighborhood on bikes. They said, 'Officer, can we ride with you?' I took them around the campus, showing them the buildings and everything."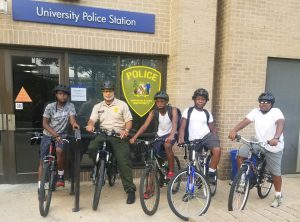 The same young people returned the next day, others soon joined them, and the group ride became a regular activity, with Johnson taking the role of tour guide and informal student recruiter for the University. He had parents sign a form giving permission for their children to participate.
"I take (the kids) over to Northwood to show them what's going to be new over there. I take them into the new buildings on the campus to show them how pretty they are inside. I introduce them to some of the people inside…." Johnson said. "I'm letting them know that this is their next stage of life."
A father and grandfather, and a native of Baltimore, Johnson said riding with the kids has been good for his spirit as well as his body. And, like all of the bike patrols, he said, it's been good for campus security as well.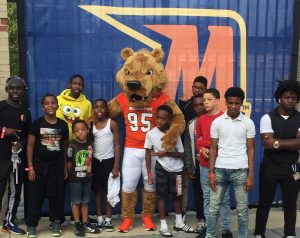 "It's police presence. Kids can see us. Students can see us. Parents came up to us and spoke on move-in day," Johnson said. And on calls, he notes, he can sometimes respond to locations faster than the officers in cars.
Johnson's work with youth on campus has also led to some fulfilling work in the community as a volunteer. He escorted 55 children on a bike ride from the Inner Harbor to Charles Village, in August. The event was part of a mentoring program led by one of his friends.
"After the ride, they had a cookout for the kids, and they (came) over to ask me questions about policing and this and that," Johnson recalled. "(Those) kids really made me feel like police are wanted. All of them were just gravitating to me. Riding up Charles Street, they were listening to me, and the (drivers) were blowing their horns saying, 'Thank you.'… It was breathtaking."
As for the group rides on campus, "It's been great," Johnson said. "…It wasn't something I was looking for. I was actually building my hips back up, but at the same time, I was doing police work and communicating on the campus. It was just a beautiful thing that happened."