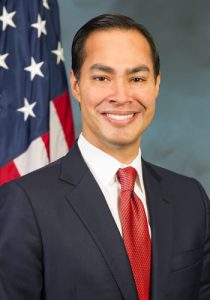 Morgan State University President David Wilson has announced that Julián Castro, secretary of the U.S. Department of Housing and Urban Development (HUD), will address Morgan's graduates at the December 2014 Commencement. This will be the second December graduation in the University's 147-year history.
Castro, the 16th secretary of HUD, commands a $46-billion budget of an agency with 8,000 employees. He was sworn in on July 28, 2014. President Obama has described Castro as, "a proven leader, a champion for safe, affordable housing and strong, sustainable neighborhoods." In 2010, he was selected as one of Time Magazine's list of rising stars in American politics and placed on the World Economic Forum's list of Young Global Leaders.
Julián Castro is an attorney who has served not only as a member of the city council in his hometown of San Antonio, Texas but also as that city's mayor. During his term as mayor, Castro is credited with refocusing attention on San Antonio's downtown and center city district, producing new investment from the city's private sector and producing over 2400 new housing units. He has a Bachelor of Arts degree from Stanford University and a J.D. from Harvard Law School.
Morgan's December 2014 Commencement is scheduled for December 19th at 10:00 a.m. in the Murphy Fine Arts Center's Gilliam Concert Hall, 2201 Argonne Drive on the University's South Campus.