Baltimore – Morgan State University and Towson University student-athletes enjoyed a meaningful and special time during a unified community service event at the Weinberg Y in Waverly. In addition, representatives from the Special Olympics of Central Maryland, a partner of Towson Athletics, assisted with handing out free backpacks to attending children.
This was the second event leading up to the "Battle For Greater Baltimore" football game between Towson and Morgan State being held on Sept. 1, at Morgan's Hughes Memorial Stadium. The two football teams held a joint press conference on August 16, at the Glory Days Grill in Towson.
Members of the Morgan track and field and softball teams partnered with student-athletes from the Towson women's cross-country team to interact and engage with children from Baltimore City. It was a memorable afternoon filled with joy and smiles as the student-athletes and the children played fun games of Simon Says and Duck Duck Goose.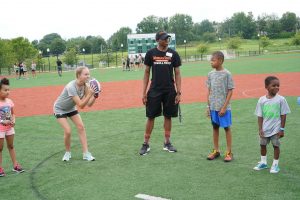 "It was such a rewarding time giving back," said Morgan senior softball player Damali Young. "I think it's one of the most important things, for the kids to see examples of how great their life can be if they take pride in their academics. Their physical activity is one of the best ways for them to figure out what they want to do with their life."
The student-athletes also enjoyed each other's company while teaming together to participate in relay races, football tosses, balloon races and hula-hoop activities. Children and adults danced, shouted, sprinted and posed for plenty of snapshots. The day concluded with a dance competition and the Tigers student-athletes answering questions from the inquisitive children.
"This was so much fun," Towson senior Druex Collins said. "All of the kids were amazing, nice and so energetic. I am glad we had this opportunity to give back to the community. We all had a nice time. I've never bonded with Morgan State. I just see them on the track. So to be in an intimate environment and get to know them off the track was really nice."
The Battle for Greater Baltimore football game takes place on Sept. 1, with kickoff beginning at 7 p.m. at Hughes Memorial Stadium. Game tickets are available for purchase via TicketMaster.com.