NEW YORK, NY & BALTIMORE, MD– SATURDAY, OCTOBER 6, 2018– Today, Morgan State University's Magnificent Marching Machine, was selected to perform in the 2019 Macy's Thanksgiving Day Parade®, representing the state of Maryland. This will mark the first Parade appearance by the band. The Marching Machine will join the Parade to the call of "Let's Have a Parade," the iconic phrase that has signaled the start of every Macy's Thanksgiving Day Parade since 1924.
Each year, the Macy's Parade Band Committee looks for bands that have the stage presence, musical and marching abilities to captivate more than 3.5 million live spectators and more than 50 million viewers. Morgan State was selected from more than 100 applicants as one of nine selected bands to march in the 93rd edition of the annual holiday spectacle. The band will join the revelry along with other iconic Macy's staples: floats, giant character balloons, clowns and superstar performers galore on Thanksgiving Day 2019, helping to create an unforgettable experience for millions.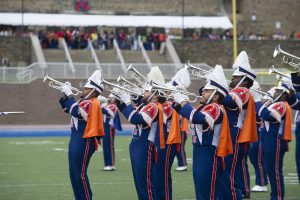 "Morgan State University is home to one of the finest and most exciting marching bands in the northeast, delivering high-energy, crowd-pleasing performances every fall season," said Wesley Whatley, Macy's Thanksgiving Day Parade Creative Producer. "Macy's Band Selection Committee is proud to welcome The Marching Machine to New York City for their debut appearance in the 2019 Macy's Thanksgiving Day Parade!"
"The Magnificent Marching Machine and the students that make up its members are recognized nationally as a model for musical excellence and exuding that essential ingredient for what is known as that 'Ole Morgan Spirit,' Melvin Miles, director of Morgan State University bands. "Today, we are proud, honored and excited to be participants in one the world's greatest parades-Macy's Thanksgiving Parade and to be given this wonderful opportunity for our band to present its 'High Stepping'-show style to the world. There is not a greater stage than the Macy's Thanksgiving Day Parade."
The Magnificent Marching Machine will spend the next 12 months planning for their Parade appearance. Rehearsals and creative fundraising events not only bring the school and the community closer but also prepare the students for the march of a lifetime.
For more than ninety years, Macy's Thanksgiving Day Parade has given thanks to what Macy's values most –- its loyal fans.  More than 5,000 Macy's employees and dedicated volunteers work tirelessly to create a spectacular event that entertains the cheerful crowds and provides joy to millions at home watching on Thanksgiving Day.  Stretching down a more than two-mile-long route in New York City, the spectacle is alive with gleaming color, music and smiles.
The Morgan State University Marching Band is comprised of 150 students. The marching band has had appearances at NFL, MLB and CFL games, local and regional parades, civic and public school performances as well as providing exciting performances for Morgan State University athletic events. The Band has appeared in the movies "Amazing Grace" and Chris Rock's "Head of State," as well as on the Tom Joyner Show and at The White House. The MSU Band program offers six different ensembles: Marching Band, Symphonic Band, Symphonic Winds, Jazz Ensemble, Pep Band and the Jazz Combo. Its most popular and recognized ensemble is the Marching Band, fondly known as "The Magnificent Marching Machine."
About the Macy's Thanksgiving Day Parade:
With more than 50 million viewers across the country and more than 3.5 million spectators that line up along the streets of New York City each year, the Macy's Thanksgiving Day Parade is a national icon that has grown into a world-famous holiday event. For more than 90 years, the Macy's Thanksgiving Day Parade has marked the official start of the holiday season. Growing in size and scale, the Parade proudly marches down a more than 2-mile route in New York City with more than 8,000 participants in tow including Macy's employees, their families, celebrities, athletes, clowns and dance groups spreading holiday cheer. The Parade also features America's best marching bands, fabulous floats and Macy's signature giant helium character balloons.  For more information on the Macy's Parade, please visit www.macys.com/parade or call the Parade hotline at (212) 494-4495.
###
MEDIA CONTACT(S):
Larry Jones, University PR
(443) 885-3022
Christine Olver Nealon, Macy's Media Relations
(646) 429-5713
Christine.Olver.Nealon@macys.com