As part of an effort to identify and maximize individual strengths in emerging entrepreneurs and top college achievers, Morgan State University President David Wilson joined University of the District of Columbia (UDC) President Ronald Mason and Bowie State University President Aminta H. Breaux to announce the availability of a new $1 million scholarship program. The Capital Builders Center is an exciting new entrepreneurship-focused student scholarship program and training institute open to all DC residents who are enrolled at Morgan, UDC, or Bowie State.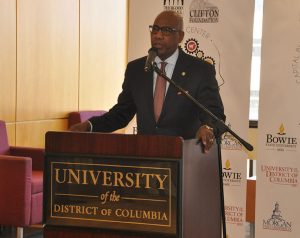 "We are excited to be a part of this collaborative effort to cultivate the entrepreneurial spirit of local DC students, presenting them with the educational opportunities available at each of our prospective universities," said Morgan President David Wilson. "Morgan has a long history of attracting students from the District, particularly as result of the DC TAG program. Through our involvement in this new partnership, we look to expose more students to the elite educational programs at Morgan and supporting these promising students as they pursue their entrepreneurial ambitions."
Touted as a public-private partnership with the Clifton Foundation, UDC and the District of Columbia government, the three-year grant is administered by the Thurgood Marshall College Fund (TMCF) and supports District residents attending UDC and other historically black public institutions within close proximity (Bowie State and Morgan State) who are completing their freshmen year and all graduating high school seniors from the District of Columbia who are entering their first year at Morgan, UDC, or Bowie State. Freshmen currently enrolled at Morgan can apply online to participate.
The Capital Builders Center enhances student learning through courses and coaching based on strengths-based leadership and assists undergraduate degree programs in management and entrepreneurship. All incoming freshmen take a strengths-based course with individualized coaching. Boot camp participants and full-program scholars will gain valuable life and entrepreneurial skills, real-world work experience, and a pathway to middle-class jobs and beyond.
"Our focus is really about job creation and helping our students leverage their strengths in the workplace," said President Ronald Mason, Jr. "There's a lot of talent and entrepreneurial energy being generated in the District, and we're focused on creating great graduates who are self-aware and contributing right out of the gate."
"This is the entrepreneur's Julliard for local high potential students that can build organizations of unlimited size," added Jim Clifton, Chairman and CEO of the Clifton Foundation, which is the funding partner of the scholarship program.
The Capital Builders Center at the University of the District of Columbia supports student success with summer boot camps, second-summer apprenticeships, entrepreneurship coursework, life skills training, coaching, mentoring and more. UDC is proud to offer this significant stepping stone along the pathway to the middle class.
"This is a great program. I see it as an avenue to a different way of thinking. And as a new Morgan student, it will allow me to be on the front line of implementing change not only in my community but also worldwide." – Ajani Young

Ajani Young
Incoming Morgan freshman, Class of 2022
Majoring in: Primary Education
Capital Builders Center participant
"This initiative positions the University of the District of Columbia on the cutting-edge in education, research and outreach focused on identifying and maximizing local entrepreneurial talent," said Interim Deputy Mayor Ahnna Smith. "We are opening doors of opportunity for District residents and getting more Washingtonians on pathways to the middle class. This program ensures more DC residents are prepared to participate in the District's thriving economy and UDC is helping us do just that."
"Bowie State University is proud to partner with the University of the District of Columbia on the Clifton Scholars Program to create opportunities for our students to develop and enhance their entrepreneurship skills while in college," said Bowie State University President Aminta H. Breaux. "Entrepreneurial thinking is a key skill for the workforce of today and tomorrow – through this program, talented Bowie State University students will have access to the deep learning experiences needed to succeed in their future careers and the practical support to contribute to the next-generation workforce."
UDC is building broad corporate and community participation in support of this initiative.  Microsoft was eager to join as the Capital Builders Center technology partner.
"Through UDC's partnership with Microsoft, we are providing 30 Surface Pro devices for students to have an engaging experience supporting the entrepreneurship boot camp this year.  Our mission at Microsoft Education "Empowering students of today to create the world of tomorrow," said Satya Nadella, Microsoft CEO.
Morgan State University, founded in 1867, is a Carnegie-classified doctoral research institution offering more than 100 academic programs leading to degrees from the baccalaureate to the doctorate. As Maryland's Preeminent Public Urban Research University, Morgan serves a multiethnic and multiracial student body and seeks to ensure that the doors of higher education are opened as wide as possible to as many as possible. For more information about Morgan State University, visit www.morgan.edu.
###
MEDIA CONTACT(S):
Larry Jones, Morgan State University
(443) 885-3022
John Gordon, Jr., University of the District of Columbia
(202) 274-5998