Ribbon-Cutting for Jenkins Hall Honored the Past and Celebrated the Future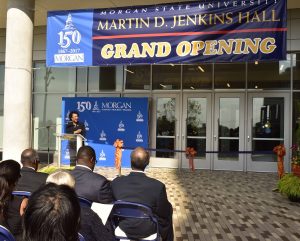 The official opening of Martin D. Jenkins Hall, a new, $79-million, 148,000-square-foot facility at Morgan State University, marked another great step forward for the historically black institution, which is celebrating its 150th year. The ribbon-cutting ceremony drew a large audience to Morgan's West Campus on Sept. 14. Jenkins Hall houses five academic departments in behavioral and social sciences and stands beside the Morgan Business Center, which opened in 2015.
"We must never, ever forget what it really means to the legacy of our great university to be in this space," said Morgan President David Wilson in his remarks at the ceremony. "…I want to make sure that our students, in particular, don't forget the history," he added, referring to Morgan students' pioneering protests for integration of Northwood Shopping Center during the U.S. civil rights movement, in the 1950s. "This spot is not just a (venue for) two great buildings. This is Freedom Plaza."
The new facility is aptly named. Martin D. Jenkins, Ph.D., LL.D., an African American, led Morgan as its seventh president from 1948 to 1970. The direction and standards he set for Morgan's scholarship and research made his tenure an era of great progress for the institution and contributed greatly to the advancement of civil rights, human rights and equal opportunities in Baltimore and beyond.
Jenkins Hall is the new home of Morgan's Departments of Economics; History and Geography; Psychology; Sociology and Anthropology; and Political Science. It replaces Morgan's former Jenkins building, which opened on the university's Academic Quad in 1974. Among its many amenities, Jenkins Hall features flexible classrooms for traditional lectures or group learning, collaborative open spaces for faculty and students, room placements that promote interdisciplinary learning, an instructional design development suite to support the continuing education of faculty, and a 170-seat auditorium. The building also has a technology-rich environment, including a "maker space" with 3-D, virtual reality computers, and a next-generation network providing high-speed, wireless Internet connectivity for mobile devices and interaction with students and researchers around the globe. Jenkins Hall employs green technologies to reduce energy costs and water usage, and to support healthy interactions between the facility's occupants and their environment.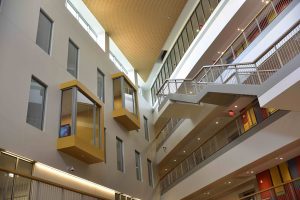 Morgan's associate vice president for Facilities, Design and Construction Management, Kim I. McCalla, and her team received praise from the podium for their role in realizing Jenkins Hall. Architects for the project were HOK and Quinn Evans Architects, based in Washington, D.C. Barton Malow Company, Commercial Interiors, Inc. and JLN Construction Services were the construction managers.
Maryland State Senator Nathaniel J. McFadden, a two-time graduate of Morgan, addressed the gathering for the ribbon cutting and maintained the theme of progress.
"When I came (to Morgan's campus) and got off the bus in 1964, I wasn't welcome in this community," McFadden said. "Dr. Wilson was right. We (black students) just had to keep walking…. It wasn't a pleasant time. But we look forward to working with you…because we're on the way to Loch Raven. We're going to have specialty shops and bookstores, nice places. God's going to bless us. And we're going to have the next generation of leaders for this community, for this city, for this state and this nation, right here at our beloved Morgan State University."
The other speakers for the occasion included Gloria J. Gibson, Ph.D., Morgan provost and senior vice president for Academic Affairs; Kweisi Mfume, chair of Morgan's Board of Regents; M'bare N'gom, Ph.D., dean of Morgan's James H. Gilliam Jr. College of Liberal Arts (CLA); and Pamela Scott-Johnson, Ph.D., former CLA dean, now dean of the College of Natural and Social Sciences at California State University, Los Angeles. Baltimore City Councilman Ryan Dorsey was among the government and community leaders who attended the ceremony.
About Morgan
Morgan State University, founded in 1867, is celebrating its 150th year of excellence in higher education. A Carnegie-classified doctoral research institution, Morgan offers more than 100 academic programs leading to degrees from the baccalaureate to the doctorate. As Maryland's designated Public Urban Research University, Morgan serves a multiethnic and multiracial student body and seeks to ensure that the doors of higher education are opened as wide as possible to as many as possible. For more information about Morgan State University, visit www.morgan.edu.
# # #
MEDIA CONTACT:
Larry Jones, Morgan State University
(443) 885-3022