Nationally Known Philanthropists Fund MSU Scholarships for Students from Baltimore
Morgan State University President David Wilson today announced the dedication of the University's future student services building to Morgan alumnus Calvin E. Tyler Jr. and his wife, Tina. Construction of the $81-million, state-of-the-art facility is scheduled to begin later this year, and its opening is slated for 2020. Calvin Tyler is a retired senior executive for UPS. The Tylers, both natives of Baltimore, are among Morgan's most prominent benefactors. Their $5-million gift to the University provides funds for full, need-based scholarships for select Morgan students from their hometown and is the largest individual donation in the university's history.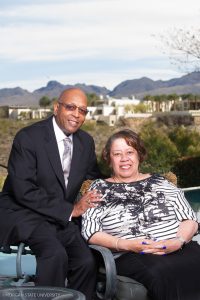 "The Morgan family is grateful beyond measure for the generosity of Calvin and Tina Tyler," said Dr. Wilson. "The resources they have provided are furthering the vital work of Morgan by expanding opportunities for quality higher education for students of all backgrounds. This building dedication, during our sesquicentennial year, is a small token of our gratitude and will serve as a permanent reminder to all who pass through Morgan Commons of the commitment of this exemplary couple to Morgan's long-term vitality."
Calvin Tyler, whose personal story touches on the financial struggles he had while attending Morgan, says having his surname on the student support building at Morgan has a deep meaning for him.
"Tina and I are extremely honored by this news," he said. "We both feel strongly about education, and we are very happy that we are able to provide an opportunity for young people in Baltimore to get a good education, especially since we were born and raised in Baltimore. At this point in our lives, we are just pleased that we were able to give back to the town we grew up in."
Tyler was the first person in his family to attend college when he entered Morgan to study business administration in 1961. In 1963, he had to interrupt his higher education because of lack of funds. He then took a job as one of the first 10 drivers at UPS in Baltimore in 1964, during the company's early days. Two years later, he became a UPS manager and climbed the corporate ladder, joining the company's board of directors and becoming senior vice president of operations, the position from which he retired in 1998.
"There are two major things I want to achieve (with the endowed scholarship fund)," Tyler said in 2016. "No. 1, to see as many of our young people graduate with a degree as possible…. The second thing that my wife and I are concerned about, and that's why we're providing 10 full-tuition scholarships each year, is that we want more students to get a college degree and graduate debt-free."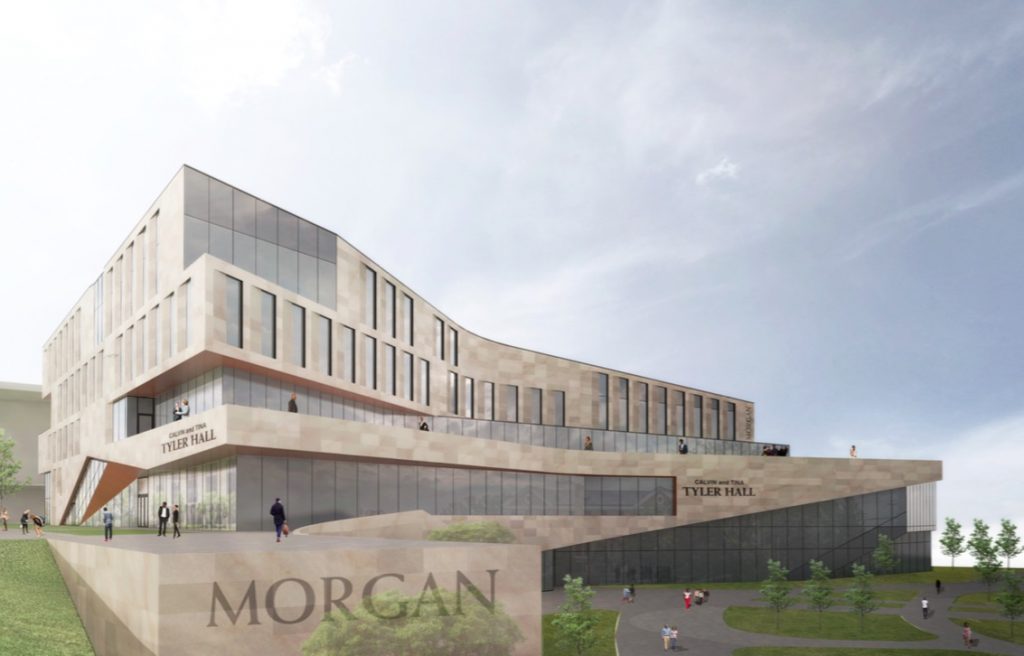 The 139,000-square-foot Calvin and Tina Tyler Hall will house nearly 20 student support departments and will include numerous special features, including a green roof on the third level, a state-of-the-art recruitment room and "generalist desks" to limit students' time spent in different departments.
"The Tylers' gifts have been extremely helpful in our efforts to bring in all students who qualify academically," said Cheryl Y. Hitchcock, Morgan's vice president for Institutional Advancement. "I am very pleased that the university has chosen to honor their legacy in this way."
---
About Morgan
Morgan State University, founded in 1867, is a Carnegie-classified Doctoral Research Institution offering more than 70 academic programs leading to bachelor's degrees as well as programs at the master's and doctoral levels. As Maryland's premier public urban research university, Morgan serves a multiethnic and multiracial student body and seeks to ensure that the doors of higher education are opened as wide as possible to as many as possible. More information about the university is available at www.morgan.edu.
MEDIA CONTACT(S):
Clinton R. Coleman or Larry Jones
(443) 885-3022