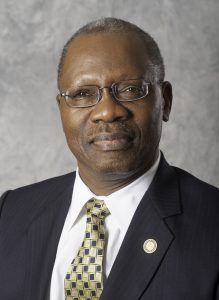 Huntingdon, Pennsylvania's Juniata College has announced that Maurice C. Taylor, Ph.D., JD, vice president for the Division of Academic Outreach and Engagement at Morgan State University, will deliver the commencement address at its 140th commencement ceremony being held on May 19, 2018, on the Juniata campus. Taylor, a 1972 graduate of Juniata College, also will receive an honorary doctor of humane letters degree.
Dr. Taylor has spent the majority of his professional career as an academic leader at Morgan. In addition to overseeing the University's academic outreach and engagement efforts and serving on the President's Leadership Team, he also was instrumental in leading Morgan through its self-study and Middle States reaccreditation process.
"I am honored to be recognized by my alma mater with this honorary degree," Taylor says. "I feel the weight that comes with having to address Juniata College's class of 2018 graduates about the great and small things they are expected to achieve in order to form a more perfect union."
In 2016, Taylor was recognized for his professional accomplishments and contributions by Juniata College as the recipient of its 2016 Alumni Achievement Award, during the college's Alumni Weekend.