Tara Berrien to Lead University's Office of Diversity & Equal Employment Opportunity, Centralizing Equity Governance and Title IX Compliance
BALTIMORE – Following a national search, Morgan State University has appointed Tara Berrien, J.D., as the university's new assistant vice president for diversity and equal employment opportunity (EEO) and Title IX. Berrien, who comes to Morgan with a wealth of legal, employee relations and workplace equity experience, assumed her new role in July heading the University's Office of Diversity & Equal Employment Opportunity.
"Ms. Berrien's impressive background as a licensed attorney and an accomplished practitioner on ethical discernment matters relating to diversity, workplace regulations and Title IX make her uniquely qualified to oversee these critical areas of university operations," said David K. Wilson, president of Morgan State University. "Diversity is a celebrated core value that we universally embrace here at the National Treasure and we are delighted to welcome a professional of Ms. Berrien's caliber to Morgan."
As assistant vice president for Diversity and EEO and Title IX, Berrien is responsible for leading Morgan's diversity and equity efforts to comply with federal and local laws, regulations and agency guidance. Additionally, Berrien will oversee, design and direct programs, policies, and procedures to ensure Morgan's compliance pertaining to equal employment opportunity, non-discrimination, sexual harassment and sexual misconduct, as well as overseeing University compliance and operations pertaining to Title IX. She reports to Don-Terry Veal, Ph.D., chief of staff for the Office of the President.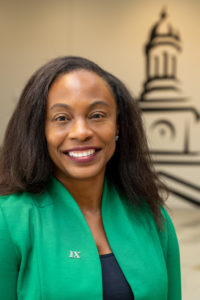 "It is truly an honor to be here at Morgan and I am eager to hit the ground running on the heels of recently released federal regulations pertaining to Title IX and federal guidance pertaining to COVID-19 and workplace accommodations," said Tara Berrien, assistant vice president for diversity and EEO, Title IX. "While my Office is tasked with following these new regulations, providing reasonable ADA accommodations, and ensuring that our University community embraces all walks of life, I assure our community members that, despite our current state of reality, the Office remains committed to being impartial, prompt, and thorough in all that we do."
Berrien's Title IX duties encompass oversight of investigations, reporting, and educational and preventative programs as well as training, and communication for the aforementioned areas. She will serve as the University's frontline authority on efforts to reduce discrimination and harassment in all forms, supervise all Title IX inquiries, and ensure institutional accountability by responding to reported concerns and complaints related to discrimination and harassment in a prompt, thorough and effective manner.
Elaborating on her vision forward and dedicated approach to Title IX oversight, Berrien added, "I wear my 'IX' pin to campus every day as a visual reminder to myself and the University community that I'm here and accessible, whether it's in person or virtual. I come to Morgan with experience and integrity, and plan to reaffirm a level of consistency and a clear path forward for Diversity, EEO, and Title IX at this National Treasure."
A native of New Castle, Delaware, Berrien comes to Morgan having previously served as employee relations consultant for the Christiana Care Health System, one of the nation's leading regional healthcare operations servicing the state of Delaware and portions of Maryland, Pennsylvania and New Jersey, and as equity compliance investigator in the Office of Institutional Equity at Johns Hopkins University (JHU). Berrien successfully led investigations of alleged discrimination, harassment and sexual misconduct; facilitated employee disciplinary appeal panels; and ensured ethics and legal compliance requirements and regulations were upheld. In the latter role as an equity compliance investigator at JHU, Berrien was instrumental in providing counsel relating to equal opportunity laws and regulations, Title VI, VII, and IX, as well as Campus SaVE Act and ADA compliance.
Berrien received her Juris Doctor (J.D.) from University of Dayton School of Law and her Bachelor of Arts in History with a minor in Political Science at the University of Delaware.
About Morgan

Morgan State University, founded in 1867, is a Carnegie-classified doctoral research institution offering more than 126 academic programs leading to degrees from the baccalaureate to the doctorate. As Maryland's Preeminent Public Urban Research University, Morgan serves a multiethnic and multiracial student body and seeks to ensure that the doors of higher education are opened as wide as possible to as many as possible. For more information about Morgan State University, visit www.morgan.edu.
MEDIA CONTACT(S):
Larry Jones or Dell Jackson, University PR
(443) 885-3022