Nearly 500 Graduates to Participate in University's Sixth Annual December Commencement
Morgan State University (MSU) President David Wilson today announced that the senior senator from Massachusetts, Elizabeth Warren, will be the keynote speaker for the University's sixth annual December Commencement Exercises, to be held on Friday, Dec. 14, 2018, at 9:30 a.m. Sen. Warren, who is fresh from a mid-term reelection victory, will deliver her address before a diverse graduating class of nearly 500 students. Sen. Warren will also be one of several distinguished citizens to receive an honorary doctorate from the University during the ceremony. The other honorees include Morgan alumna and former member of the University administration Clara Adams, Ph.D. (Class of 1954) and the founding dean of Morgan's Clarence M. Mitchell Jr. School of Engineering, Eugene DeLoatch, Ph.D.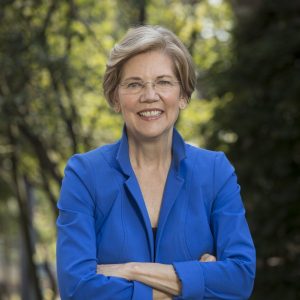 "At Morgan, we strive to expose our students to an array of thought leaders by bringing some of the most diverse and powerful voices to campus. Sen. Elizabeth Warren is one of the most progressive entities on the political landscape, and what she has to offer in terms of her experiences and leadership is something that is sure to benefit our students as they leave this institution and begin the journey to become leaders in their own right," said President Wilson. "We look forward to receiving Sen. Warren's message and gaining some positive insights and advice that can be applied now as well in the future."
Sen. Warren has served as a law professor for more than 30 years, including nearly 20 years at Harvard Law School, and throughout her professional career has become one of the nation's top experts on bankruptcy and the financial pressures facing middle-class families. The National Law Journal named her one of the Most Influential Women Lawyers, and she was honored by the Massachusetts Women's Bar Association with the Lelia J. Robinson Award. Students at Harvard Law School twice recognized her with the Sacks-Freund Award for excellence in teaching.
Working in collaboration with other researchers at the University of Texas, Sen. Warren brought national attention to the connection between personal bankruptcy and health care costs. Her groundbreaking research, digging into thousands of court records of bankruptcy filings, revealed the aftermath of family bankruptcies related to astronomical medical expenses. When not examining the everyday effects of financial hardship, she taught courses on commercial law, contracts and bankruptcy and has written more than 100 articles and 11 books, including four national best sellers.
In the aftermath of the 2008 financial crisis, Sen. Warren was selected to serve as chair of the Congressional Oversight Panel to provide some supervision over the Wall Street bailout, also known as TARP. She later was widely credited for the original thinking, political courage and persistence that led to the creation of the Consumer Financial Protection Bureau, which she served as its first director.
In the Senate, in addition to fighting to protect taxpayers while holding Wall Street accountable, she's led the charge to keep dangerous drugs out of circulation in light of the national epidemic of opioid addiction. She's also become a national leader in the fight to create a level economic playing field for working people across the country. Her focus on education includes developing accountability and tackling the student debt crisis, as well as investing in all educational paths to good-paying jobs. Sen. Warren has served as the Commonwealth of Massachusetts' senior senator since 2013.
Sen. Warren, Dr. Clara Adams and Dr. Eugene DeLoatch will each receive an honorary doctorate during the Commencement.
A distinguished graduate of Morgan, Dr. Adams has dedicated nearly all of her professional life, 61 years of service in all, to the success of the University. During her tenure at Morgan, Dr. Adams contributed her insights and leadership through her roles as professor of chemistry, chair of the Department of Chemistry, dean of the School of Graduate Studies, vice president for Academic Affairs and most recently, until her retirement, as special assistant to the President. So revered and respected is Dr. Adams for her contributions to Morgan that the honors college is named after her. The Clara I. Adams Honors College has become an intellectual incubator for academically advanced students, producing a diverse population of critical thinkers.
Dr. DeLoatch became the inaugural dean of Morgan's Clarence M. Mitchell Jr. School of Engineering in 1984, and over the next 34 years, he would become the foremost producer of African-American graduates holding engineering degrees. Throughout his professional career, Dr. DeLoatch was an educator, researcher and mentor, committed to promoting engineering to youth and adults, with a particular emphasis on individuals from groups underrepresented in the STEM professions. During the 13-year period from 2002 to 2015, Dr. DeLoatch's degree-granting programs at Morgan led the nation in the production of African-American electrical and civil engineers at the baccalaureate level. The impact of what he began and built at Morgan is still felt today.
About Morgan
Morgan State University, founded in 1867, is a Carnegie-classified doctoral research institution offering more than 100 academic programs leading to degrees from the baccalaureate to the doctorate. As Maryland's Preeminent Public Urban Research University, Morgan serves a multiethnic and multiracial student body and seeks to ensure that the doors of higher education are opened as wide as possible to as many as possible. For more information about Morgan State University, visit www.morgan.edu.
# # #
MEDIA CONTACT:
Larry Jones, University PR
(443) 885-3022