Collaboration Calls for University to Conduct Surveys and Focus Groups, Production of Digital Advertising, and Creating Educational PSAs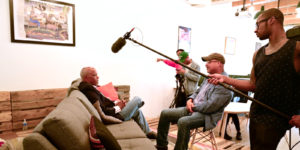 BALTIMORE — Morgan State University (MSU) has partnered with Maryland Public Television (MPT) to educate Marylanders and expand their awareness regarding the dangers associated with opioid addiction. The collaboration is as a component of the Maryland Department of Health's Opioid Community Prevention Awareness Campaign. Through a State of Maryland interagency agreement and memo of understanding (MOU) between the University and MPT, Morgan is conducting surveys and focus groups to assess knowledge levels, producing and placing digital advertising, and creating/updating educational public service announcements (PSAs). The MOU also provides an opportunity for a Morgan student to receive a paid internship at MPT.
Morgan Psychology Department's Center for Predictive Analytics, and the Screenwriting and Animation (SWAN) Program, both in housed the Gilliam College of Liberal Arts, are leading the efforts on behalf of the University. Their work with MPT began in July 2020.
Like many other states across the nation, Maryland has experienced an increase in opioid-related overdoses with deaths statewide rising sharply from 2014-2017, currently placing Maryland within the top five nationally for drug deaths. Public awareness is recognized as a critical tool to tampering down the ramifications of addiction and decreasing deaths. Morgan Center for Predictive Analytics researchers are evaluating current levels of awareness regarding the dangers of fentanyl, the use of Naloxone, and awareness related to the Maryland Help line, anti-stigma, the Good Samaritan.
For its part, Morgan's SWAN program is working with MPT to increase public awareness and knowledge about the opioid crisis. SWAN is updating and/or creating PSAs highlighting the dangers of Fentanyl, the use of Naloxone, and the availability of the Maryland Helpline. SWAN is also overseeing the online advertising component of the engagement.
About Morgan
Morgan State University, founded in 1867, is a Carnegie-classified doctoral research institution offering more than 126 academic programs leading to degrees from the baccalaureate to the doctorate. As Maryland's Preeminent Public Urban Research University, Morgan serves a multiethnic and multiracial student body and seeks to ensure that the doors of higher education are opened as wide as possible to as many as possible. For more information about Morgan State University, visit www.morgan.edu.
About Maryland Public Television
Maryland Public Television (MPT) is a statewide, public-supported TV network and Public Broadcasting Service member offering entertaining, educational, and inspiring content delivered by traditional broadcasting and streaming on TVs, computers, and mobile devices. A state agency, it operates under the auspices of the Maryland Public Broadcasting Commission. MPT creates local, regional, and national content and is a frequent winner of regional Emmy® awards. MPT's commitment to educators, parents, caregivers, and learners of all ages is delivered through instructional events and Thinkport.org. MPT's year-round community engagement activities connect viewers with resources on a wide range of topics. For more information visit mpt.org.
Media Contact(s):
Larry Jones or Dell Jackson, University PR
(443) 885-3022