Construction Company's Funding Will Support Construction Management and Civil Engineering Students Over the Next Three Years
BALTIMORE — Morgan State University (MSU) has received a $300,000 commitment from The Whiting-Turner Contracting Company to provide support to students pursuing degrees in construction management and engineering with a focus on construction. The commitment —  $100,000 per year over the next three years — comes in response to the financial challenges students have faced because of the COVID-19 pandemic and is part of a proactive effort to keep students who are aspiring for careers in the construction industry enrolled until graduation.
Whiting-Turner selects interns from Morgan's School of Architecture and Planning and School of Engineering each year, developing a pipeline to guide quality workers to its workforce. At present, there are 24 Morgan State University graduates who work for the company at locations nationwide. A number of those hires are recent graduates — members of classes of the past three to four years.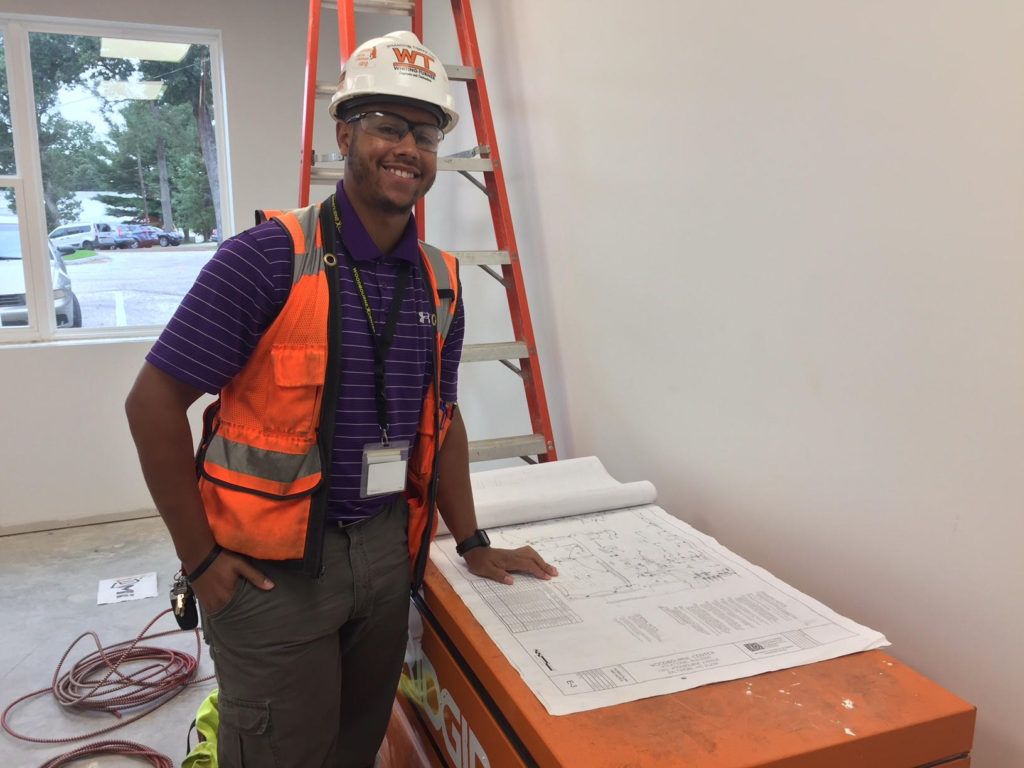 "It's not every day that you get a call from one of Maryland's leading construction executives recognizing the top-notch talent your institution produces and offering to help financially to keep that talent in development, but that is exactly what Tim Regan and Whiting-Turner did," said David K. Wilson, president of Morgan State University. "As a result of this generous commitment from Whiting-Turner, a number of Morgan students will be able to stay in school and continue their education to complete their degrees and become employees in the construction industry. (Whiting-Turner President and CEO) Tim Regan, cares about Baltimore, and as evidenced by this financial investment in the future of our students, he cares about Morgan, too."
Regan, who grew up in northeast Baltimore, initially became familiar with the University while passing it daily on his travels to and from Baltimore Polytechnic Institute, where he was a student. That familiarity grew when he began working at Whiting-Turner in 1980, and on his first day, his first assignment was right next to Morgan's campus, at the Montebello Water Filtration Plant. Today, Regan serves as Whiting-Turner's third president and CEO, and his company's relationship with Morgan has grown over the years.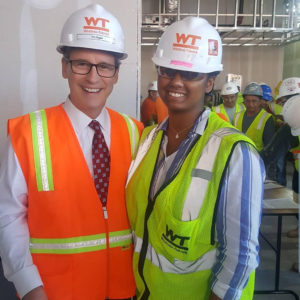 A Whiting-Turner senior vice president who serves on the advisory board of Morgan's School of Architecture and Planning informed the company's leadership that a number of students were being forced to stop their matriculation because of financial hardship associated with the ramifications of the COVID pandemic. The revelation prompted Regan to reach out to the University's leadership to see what could be done to help the students.
"Nothing could be more important to the future of our company than supporting the pipeline for extraordinary talent that we see from great schools like Morgan," said Regan. "I know from personal experience that getting support at those crucial and difficult points can be the difference between success and failure, between rising up and falling back."
Regan personally oversees the company's philanthropic efforts. Although Whiting-Turner has contributed modestly to Morgan over the years, the $300,000 commitment marks the first contribution of this size to the University. The hope is that the funds will provide some necessary assistance to students in the University's Civil Engineering and Construction Management programs, helping the students become rising stars in the construction industry.
As more sectors are looking to further diversify their workforce, institutions like Morgan are increasingly becoming prime resources for obtaining diverse talent. Morgan ranks first in Maryland in producing African Americans with bachelor's degrees in civil engineering and construction management, while nationally, the University ranks number one in bachelor's degrees awarded to African Americans in construction management and second in civil engineering bachelor's degrees awarded.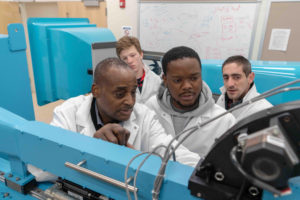 The Whiting-Turner Contracting Company is a construction management and general contracting firm headquartered in Baltimore with 50 regional offices across the United States. The company's nearly $9 billion in revenues in 2020 covered many different markets, including higher education, healthcare, science and technology, mission critical and government work. The company has developed some of Baltimore's best-known landmarks — including the Meyerhoff Symphony Hall and M&T Bank Stadium, home of the Baltimore Ravens. The company also developed the Carl J. Murphy Fine Arts Center on Morgan's campus and participated in the renovation of Banneker Hall.
"I was taught that you need to take care of the town that is your home, and that's what we've been doing," said Regan. "There's no better place for us to invest than in the future of the people who are going to be coming to Whiting-Turner and will one day help run the company."
About Morgan
Morgan State University, founded in 1867, is a Carnegie-classified doctoral research institution offering more than 126 academic programs leading to degrees from the baccalaureate to the doctorate. As Maryland's Preeminent Public Urban Research University, Morgan serves a multiethnic and multiracial student body and seeks to ensure that the doors of higher education are opened as wide as possible to as many as possible. For more information about Morgan State University, visit www.morgan.edu.
# # #
Media Contact(s):
Larry Jones or Dell Jackson, University PR
(443) 885-3022