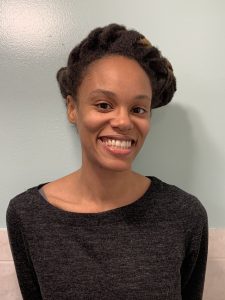 Asia Mitchell, a recent Morgan graduate from the Clarence M. Mitchell, Jr. School of Engineering, was recently honored as one of the "2019 New Faces of Engineering" by the American Society of Civil Engineers (ASCE). The ASCE New Faces of Engineering program highlights ten up-and-coming civil engineering leaders from around the country and celebrates their academic achievement.
Mitchell, who received her Bachelor of Science in Civil Engineering, aspires to be a professional engineer diver and conduct underwater bridge inspections. She discovered her interest in bridge inspections and design after serving as project manager on Morgan's American Institute of Steel Construction Steel Bridge Competition Team.
"ASCE is thrilled to recognize each of the 2019 New Faces of Civil Engineering for their inspiring achievements," said Robin A. Kemper, P.E., ASCE President. "These are the next generation of civil engineers, role models and leaders. They show dedication to the profession in their education and extracurricular activities, and I am excited to see where they go next."
Mitchell complements her rigorous academic course load by actively participating in a number of extracurricular groups and activities. She has successfully served as vice president of Morgan's ASCE Student Chapter and team captain for the American Concrete Institute's Strongest University Competition, raising thousands of dollars for these efforts. Additionally, Mitchell has led professional-development workshops, earned an open water SCUBA Diver certification and passed the Fundamentals of Engineering Exam before her graduation in December 2018.
A Prince George's County native, Asia Mitchell is a shining example of Morgan leadership and excellence. Congratulations!