Largest Individual Donation in University History to Support Student Success Efforts, Spur Research and Further Strategic Plan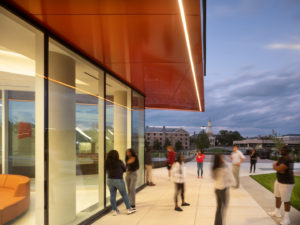 BALTIMORE — Morgan State University—Maryland's Preeminent Public Urban Research University and the state's largest HBCU—announces the receipt of a $40 million gift from noted venture philanthropist and author, MacKenzie Scott. The generous and transformative gift is the largest single private donation in Morgan's history and the second largest gift to any public Maryland university. The unrestricted funds will be used to support University efforts essential to student success as well as to advance research and enhance investments in other mission-focused priorities and initiatives.
"This monumental gift will change lives and shape futures. I thank Ms. Scott for her due diligence and acknowledgement of the substantive value Morgan offers to so many throughout this nation and around the world, and entrusting that we will ensure the enduring impact of her generosity is truly transformational for many years to come," said President David Wilson. "Long considered as a gem in the crown of Baltimore City and the state of Maryland, Morgan's dedication to improving the lives of the communities we serve is highly regarded. The receipt of this gift is clear evidence that the rest of the world is also taking notice in Morgan too."
Two months in the making, the significant gift comes at an opportune time as the University is positioning itself to become one of the top public research universities in the nation and the first HBCU to achieve R1 (highest research) status. Morgan was selected, in part, for its efforts and success in addressing racial justice, equity and equality, and nationwide educational attainment gaps. The historic gift will enable students to obtain their degrees without interruption, as well as underwrite the University's investment into key initiatives and programs that further enhance Morgan's mission.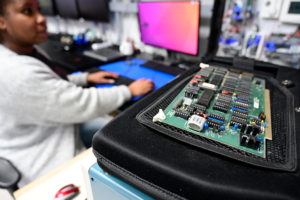 The majority of the gift will be used to seed the newly established "Leading the World Endowment Fund," the first unrestricted endowment in the University's history. The fund will be invested using the Morgan State University Foundation's successful asset allocation strategy with future interest leveraged to underpin ongoing University initiatives with a direct connection to Morgan's strategic plan. Scott's multimillion-dollar gift doubles the endowment at Morgan, establishing a more promising future supporting students and faculty, and improving academic programs for years to come.
"Endowment gifts have a strong and lasting influence and build institutional capacity in the most fundamental and sustainable way," said Donna Howard, vice president for Institutional Advancement. "The impact of Ms. Scott's gift will reverberate profoundly into the future as we prepare the next generations of leaders and scholars in the arts and sciences."
Until receiving the gift from Scott, the University's previous largest individual gift was in the amount of $5 million received from philanthropist and Morgan alumnus Calvin E. Tyler Jr. and his wife Tina. Their gift established the Calvin and Tina Tyler Endowed Scholarship Fund which supports students who are academically qualified but lacking the resources to pursue a college education.
"Morgan is open for investment and if you invest in our university, there will be a definite return on your support. We hope that Ms. Scott's giving inspires others to give to HBCUs like Morgan, who are providing much-needed opportunities to the students flying under the radar and producing the graduates of today, and tomorrow," said President Wilson.
Morgan joins a select group of handpicked mission-focused organizations and entities to benefit from Ms. Scott's generosity. This past July, the philanthropist announced her pledge to "to give the majority of my wealth back to the society that helped generate it" and "to do it thoughtfully."
CLICK TO READ MS. MACKENZIE SCOTT'S STATEMENT
About Morgan

Morgan State University, founded in 1867, is a Carnegie-classified doctoral research institution offering more than 126 academic programs leading to degrees from the baccalaureate to the doctorate. As Maryland's Preeminent Public Urban Research University, Morgan serves a multiethnic and multiracial student body and seeks to ensure that the doors of higher education are opened as wide as possible to as many as possible. For more information about Morgan State University, visit www.morgan.edu.
Media Contact(s):
Larry Jones or Dell Jackson, University PR
(443) 885-3022