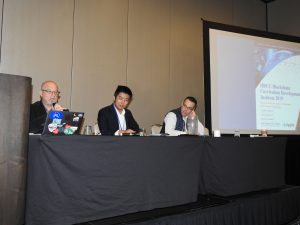 The Center for the Study of Blockchain and Financial Technology ("The FinTech Center"), an entity housed in Morgan State University's Earl G. Graves School of Business and Management (SBM), convened an HBCU Blockchain Curriculum Development Institute in New Orleans this year, from Oct. 31–Nov. 2. The Institute was organized to assist a diverse group of 45 faculty from 30 Historically Black Colleges and Universities (HBCUs) to develop blockchain and fintech-related content. Faculty members submitted competitive proposals to receive the Institute fellowship, which covered most of their expenses for the event. As a result of the Institute, more than 1,000 students will learn about blockchain and fintech at 30 HBCUs in the spring semester of 2020.
Morgan launched the FinTech Center in February 2019 after receiving a multiyear, multimillion-dollar grant from Ripple, a Silicon Valley-based technology company, to engage Morgan's faculty and students in research and education in blockchain, cryptocurrencies, cybersecurity and related fintech areas. The grant enables Morgan to serve as a hub connecting HBCUs and encourage the development of courses and research on blockchain and fintech. Morgan is part of a consortium of 34 universities around the world that form Ripple's University Blockchain Research Initiative (UBRI).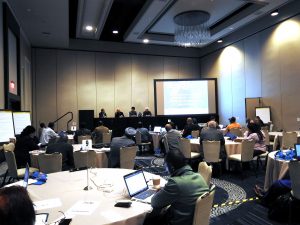 The goal of the intensive Institute in New Orleans was to streamline the long, linear and inflexible process usually used in curriculum development, a process that often quashes creativity. The fast-changing technology related to blockchain and cryptocurrencies necessitates a different approach to course and curriculum development. Faculty in the Institute collaborated in small groups and worked with mentors who are subject matter experts: Luke Kowalski teaches a blockchain challenge laboratory at the University of California, Berkeley; Lee Reiners is the executive director of the Global Financial Markets Center at Duke University School of Law; and Andrew Wu, Ph.D., is the faculty director of the Michigan Ross FinTech Initiative. Together, the faculty and mentors synthesized the latest research, trends and breakthroughs in the blockchain space by brainstorming, sharing resources and learning from each other. The mentors answered questions and guided the faculty by offering practical tools, tips and techniques that made the Institute highly productive. The participants completed their course syllabi based on the comprehensive feedback they received from the mentors.
The FinTech Center will accept proposals from Morgan faculty in the spring of 2020 for courses to be taught during the fall 2020 semester. The FinTech Center will host a workshop on Dec. 7 for faculty and graduate students on "The Technical Aspects of Blockchain." Morgan faculty and graduate students familiar with computer programming are encouraged to attend this hands-on technical workshop.