Exclusive Degree in STEM Adds to MSU's 125 Programs, Expanding Interdisciplinary Study; Safeguards Expanded to Protect Academic Research and Intellectual Property
During the public session of the Morgan State University (MSU) Board of Regents' fall quarterly meeting, Board members voted unanimously to allow the university to pursue the addition of a new Bachelor of Science degree in Cloud Computing, expanding upon an existing offering of 125 academic programs spanning 10 MSU schools and colleges. Pending approval from the Maryland Higher Education Commission (MHEC), the creation of a Cloud Computing degree undergraduate program at Morgan would mark the first such program of its kind offered at a Maryland university and would advance opportunities for students seeking highly sought-after proficiencies in a growing interdisciplinary field. The Board also approved the University's adoption of two new policies: an Intellectual Property Policy (IP Policy) and a Misconduct in Academic Research Policy.
This was the first MSU Board of Regents meeting held since the passing of Congressman Elijah Cummings, who served on the Board for 19 years. Acknowledging the late Congressman's absence from the meeting, an empty seat at the table was draped with a black sash.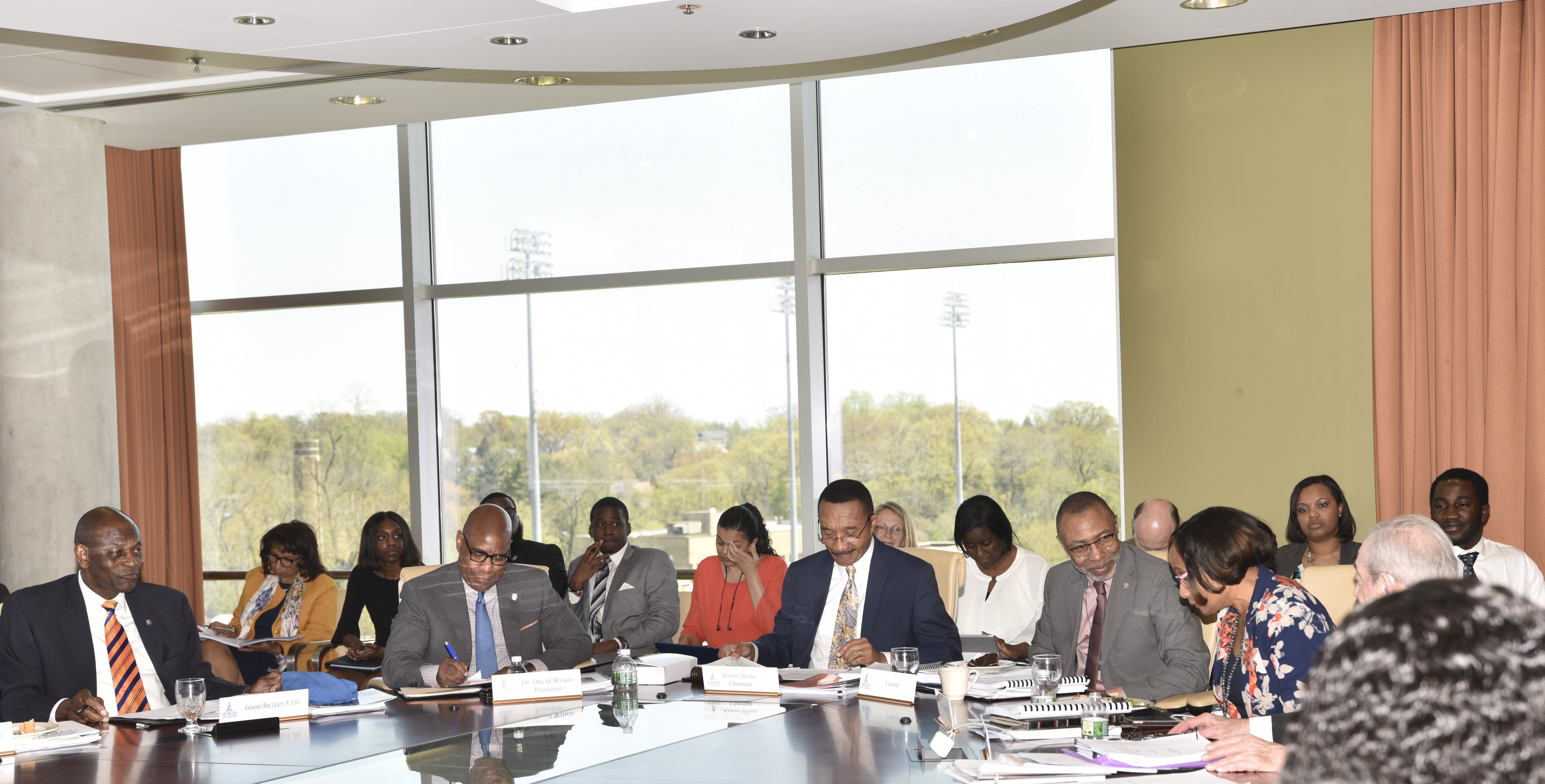 "I applaud the Board's foresight and forward-thinking as it relates to preparing Morgan for the future in addition to protecting that future. For our students to solve the problems of tomorrow, we need to offer them the programs that address those problems today, and cloud computing is at the top of the list," said David Wilson, president of Morgan State University. "As an R2 high research university, it is imperative that we grow our intellectual capacity and advance with the times. We look forward to expanding our robust offering of academic programs with the addition of this degree program, pending the State's approval."
The proposed Bachelor of Science in Cloud Computing instructional program would be offered online as well as in a traditional classroom setting (face-to-face), providing innovative, inclusive and distinctive educational experiences to a broad cross-section of the population, including adult learners and other nontraditional students. Having the degree available at Morgan, Maryland's Preeminent Public Urban Research University, responds to the crucial need to "foster innovation in all aspects of Maryland higher education to improve access and student success," as highlighted in MHEC's 2017–2021 State Plan for Postsecondary Education.
Cloud computing is a new interdisciplinary area that prepares students with knowledge of and skills in cloud services and applications to work in industry, academia and government as cloud administrators, computer architects, modelers, engineers, application developers, security specialists, analytics specialists, analysts and researchers. Increasingly, the demand for data infrastructures that can be stored, secured and accessed from anywhere and at any time requires a cloud-based solution.
To place Morgan in step with other research universities, the adoption of a new IP Policy was warranted. The comprehensive provisions of the approved IP Policy for the university applies a host of best practices mirroring those of other Maryland public research universities. The new policy governs the ownership and protection of intellectual property created by personnel, students and others at the university. It also replaces Morgan's existing Patent Policy and Copyright Policy, both adopted in 1996.
The Misconduct in Academic Research Policy establishes procedures for handling allegations of research misconduct by MSU employees. It satisfies federal regulation 42 CFR Part 93, which requires all institutions involved in federally sponsored research to have an approved institutional Research Misconduct Policy on file. With this policy in place, Morgan voluntarily applies the common federal standards for research integrity and ethics to all university scholarship, regardless of funding source. This policy applies to scholarly work, which includes research and other creative activity, research training, applications and proposals, and related activity containing a research component, performed at the university by any person, including faculty, staff, students, visitors and others.
Established under Title 14 of the Education Article, Annotated Code of Maryland, the 15-member Morgan State University Board of Regents governs the actions of the university. The governor of Maryland appoints Board members for six-year terms, except for the student regent, who is appointed for a one-year term. The Board appoints the university president, who serves at the pleasure of the Board. The Board also sets admission standards; reviews and approves university policies and budgets; and establishes the regulatory framework within which the individual units operate.
About Morgan
Morgan State University, founded in 1867, is a Carnegie-classified doctoral research institution offering more than 125 academic programs leading to degrees from the baccalaureate to the doctorate. As Maryland's Preeminent Public Urban Research University, Morgan serves a multiethnic and multiracial student body and seeks to ensure that the doors of higher education are opened as wide as possible to as many as possible. For more information about Morgan State University, visit www.morgan.edu.
MEDIA CONTACT(S):
Larry Jones or Dell Jackson, University PR
(443) 885-3022