Recently, a surprise visit to Deer Park Middle Magnet School in Randallstown, Maryland, from Baltimore County Public School (BCPS) Superintendent Dr. Darryl L. Williams and other county leaders would reveal the type of career-affirming recognition many long to receive. In the case of history teacher Brianna Ross, the visit would most certainly confirm the measure of dedication and commitment she invests each day as an educator. On that day Brianna Ross was named the BCPS '2021 Teacher of the Year.'
Ross, who is currently pursuing her doctorate in Urban Educational Leadership through Morgan's School of Education and Urban Studies, was selected from among 157 educators, nominated by their principals, to receive the honor. With her parents on hand after having made the trip down from Pennsylvania, Ross learned of her selection while teaching one of her classes at Deer Park.
BCPS' Teacher of the Year program serves to elevate the teaching profession, while recognizing excellence in teaching and thanking all teachers for their skill, knowledge, creativity, and dedication. Ross was selected, in part, for her ability to continue providing a quality educational experience to her students despite the challenges brought on by the COVID-19 pandemic.
"In a year that has tested every educator not only in Baltimore County but across Maryland and the nation, Ms. Ross shows us that great teaching transcends even the constraints of a pandemic," Dr. Williams added. "She shows us that great teaching — and great teachers — are among the most powerful forces anywhere and at any time."
The BCPS Teacher of the Year is selected by a committee composed of administrators, BCPS staff, students, TABCO representation, and the current BCPS Teacher of the Year.
When she is not pursuing her degree at Morgan or teaching middle school history, Ross serves as Deer Park's Social Studies department chair, equity liaison, Summer Transition Program coordinator, and curriculum writer. This is her sixth year as a teacher, having taught at both the middle and elementary school levels.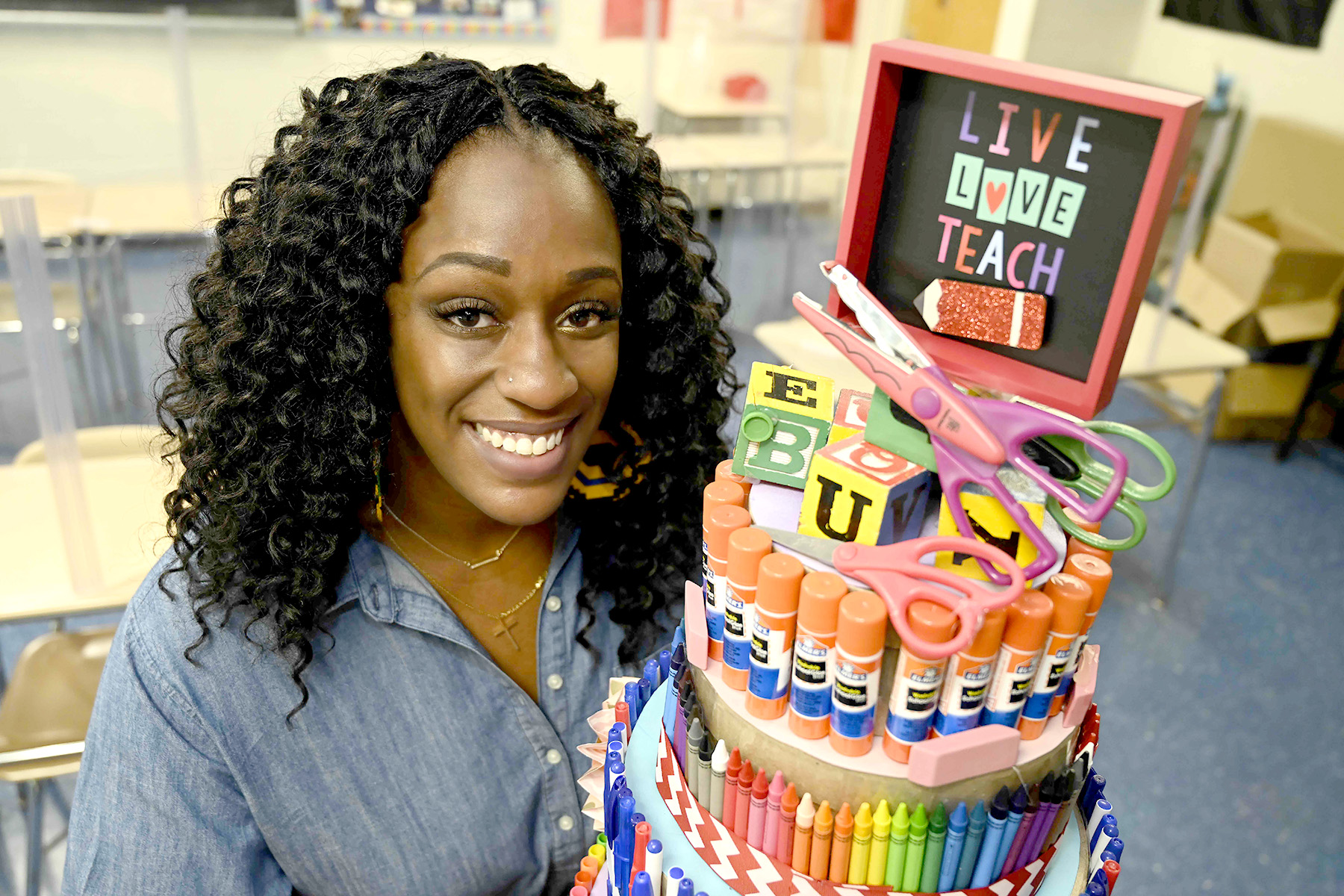 "In my classroom, I have created a culture that prioritizes building positive relationships and academic rigor above all else. It is my mission to ensure that when each of my students step into my space, they feel that they are part of a community that loves them, values who they are, and will protect them no matter what," said Ross. "In spite of the chaos that has surrounded the last year, 'stepping' into my classroom and teaching continues to be a source of joy. If I have learned anything from this pandemic, it is that taking care of my students will always be my first priority."
As the teacher of the year Ross received a gift basket from First Financial Federal Credit Union, bouquets of flowers and balloons, a $1,000 check and a flatscreen television courtesy of NTA Life, a Horace Mann company, in partnership with The Education Foundation of Baltimore County, Inc. She will also receive a variety of additional prizes throughout the school year as a way of honoring the year-round, full-time commitment of teachers across Baltimore County. In her capacity as the teacher of the year she will also be required to represent the Baltimore County school system and its more than 9,000 professional educators in the Maryland state Teacher of the Year program.
Salute to Ms. Brianna Ross, Baltimore County Public School system's Teacher of the Year, for demonstrating how Morgan students are applying leadership, innovation and excellence in the real world!