U.S. Department of Education Grant Award of More Than $94,000 to Provide Opportunity for Group Study in Colombia During Summer of 2019
In a continuation of Morgan State University's prominence as a top producer of Fulbright award recipients, the James H. Gilliam, Jr. College of Liberal Arts announces its selection as a 2018 Fulbright-Hays Group Projects Abroad grantee. As an award recipient, the College will receive a grant in the amount of $94,584 from the U.S. Department of Education to fund a group of 14 participants, including K-12 teachers, MSU faculty and graduate students, to study abroad in the country of Colombia during the summer of 2019. The dean of the College of Liberal Arts, M'bare N'gom, Ph.D., will serve as the project's principal investigator.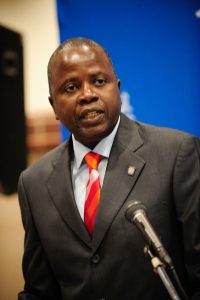 The study abroad project, titled Colombia in the Twenty-First Century: History, Culture, Peace-building and Reconciliation / Implications for teaching Spanish, Colombia and Latin America Across Disciplines, marks the fourth Fulbright-Hays Group Projects Abroad award that Dr. N'gom has received. He led groups twice to Peru (2004 and 2011) and to Senegal and Gambia (in 2016). The former chair of the Department of World Languages and International Studies was also a Fulbright recipient to Peru in 2002.
"The award of this grant, by way of the Fulbright-Hays Group Projects Abroad program, will provide participants with unique opportunities to engage in international professional and curriculum development, as well as individual research activities," said Dr. N'gom. "It also will help them to improve their language and communicative skills in Spanish, and to participate in community-based service-learning opportunities as we explore South America."
The Fulbright-Hays Group Projects Abroad program provides grants to support overseas projects in training, research, and curriculum development in modern foreign languages and area studies for teachers, students, and faculty engaged in a common endeavor. Projects may include short-term seminars, curriculum development, group research or study, or advanced intensive language programs. In addition, projects must focus on the humanities, social sciences and languages, and must focus on one or more of the following areas: Africa, East Asia, South Asia, Southeast Asia and the Pacific, the Western Hemisphere (Central and South America, Mexico, and the Caribbean), East Central Europe and Eurasia, and the Near East.
Morgan State University, founded in 1867, is a Carnegie-classified doctoral research institution offering more than 100 academic programs leading to degrees from the baccalaureate to the doctorate. As Maryland's Preeminent Public Urban Research University, Morgan serves a multiethnic and multiracial student body and seeks to ensure that the doors of higher education are opened as wide as possible to as many as possible. For more information about Morgan State University, visit www.morgan.edu.