Three Morgan State University (MSU) doctoral students were invited to present their research papers at the African Studies Association of Africa's (ASAA) Third Biennial International Conference this semester in Nairobi, Kenya.
English and Language Arts Department doctoral students Jacquetta Ayewoh, Maia Maclin and Nikki Richard presented their research writings examining the theoretical, sociological, and aesthetic distinctions between Womanism and Feminism as taught by MSU professor, Dr. Adele Newson-Horst, on the subject.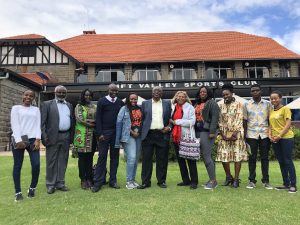 Presented before an international audience of faculty, graduate students and 25 Kenyan authors and poets, at the United States International University-Africa, the student panel explored notions of masculinities and feminisms as they appear in the works of Chimamanda Ngozi Adichie, NoViolet Bulawayo, and Yaa Gyasi Ayewoh.
Maia Maclin explained, "I was happy to represent MSU and it shows just how strong our program is." Ayewoh added, "I was most impressed with the feedback they gave us, and the discussion generated by our presentations. We felt like true members of an international community of scholars!"
The students also met with well-known Kenyan author Henry Ole Kulet—author of more than 10 books that focus chiefly on the Maasai experience in Kenya and Uganda.
The experience also afforded the students with the opportunity to engage with the editor of the publishing company Story Moja, Monity Odera. Odera shared with them strategies she uses to increase reading in Kenya so that "books are in the hands of every young person." Ayewoh explained, "The conversation about literacy with StoryMoja was important to me as an English educator and [Ms. Odera's] steps for improving literacy were quite an eye opener."
Morgan State University sponsors of the panel included the College of Liberal Arts (CLA), the Office of the Provost, the Women's and Gender Studies Program, Morgan Women, and the Office of Study Abroad.