Personal Contribution and Gifts from Alumni and Friends Grows the President's'$5 Scholarship Fund,' to $1 Million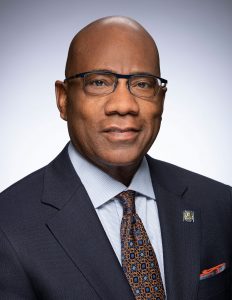 BALTIMORE – Coinciding with the 10th anniversary of his leadership of Morgan State University, President David K. Wilson announced a new personal commitment of $100,000 to benefit the Growing the Future Opportunity Fund. Administered by the Morgan State University Foundation (MSUF), the fund provides support for Morgan students facing financial barriers, through emergency assistance and grants that create a pathway toward academic success. With the new commitment, Wilson's contributions to support Morgan students, since his inauguration as the University's 10th president, nears $300,000, a sizable portion of which helped to launch the President's $5 Endowed Scholarship Fund. The $5 Fund has amassed some $1 million since its launch in FY2011.
"Giving back is personal for me, because there is no way that I would have finished college without the generosity and contributions of others assisting my journey," said President Wilson. "It is a joy for me to be able to invest in our students here at Morgan and enable them to realize their dreams. Our students are the future leaders, innovators, educators, business starters and decision makers, and I want to be able to say that I contributed in every way possible to their success."
The Growing the Future Opportunity Fund has provided Morgan students with much-needed support during the COVID-19 pandemic. In addition to the announced commitment from President Wilson, the fund has garnered contributions from scores of Morgan alumni and some philanthropic organizations, such as the Andrew K. Mellon Foundation. This fall, funds raised through Morgan State University Foundation's 2020 Virtual Gala will also support the fund.
It was at the MSUF's FY2011 Homecoming Gala that Wilson announced the official launch of the $5 Endowed Scholarship Fund, establishing it with his first commitment of $100,000. Today, the fund helps some 30 students annually through scholarships and study abroad opportunities. Wilson began the $5 Fund in commemoration of his father's commitment to his education and to create an opportunity to provide access to higher education for other deserving students.
Wilson added, "My hope is that others who have the means will join me in making a contribution to the talent that will benefit America in the long term."
In addition to his own giving, he has been instrumental in making possible some $50 million in private gifts and grants from individual and institutional supporters during his tenure at Morgan.
To make a contribution to support student success at Morgan, please visit GiveToMorgan.org.
About Morgan
Morgan State University, founded in 1867, is a Carnegie-classified doctoral research institution offering more than 126 academic programs leading to degrees from the baccalaureate to the doctorate. As Maryland's Preeminent Public Urban Research University, Morgan serves a multiethnic and multiracial student body and seeks to ensure that the doors of higher education are opened as wide as possible to as many as possible. For more information about Morgan State University, visit www.morgan.edu.
# # #
MEDIA CONTACT(S):
Larry Jones or Dell Jackson, University PR
(443) 885-3022