Dr. Mohammed Gharipour, professor and program director of Morgan's School of Architecture and Planning (SA+P) graduate program, was recently awarded the Tamayouz International Award's 2019 Mohamed Makiya Prize also known as the "Middle Eastern Architectural Personality of the Year Award" for his publication the International Journal of Islamic Architecture (IJIA). Dr. Gharipour founded the IJIA in 2012 and has served as the Journal's director since its inception.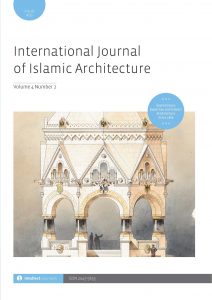 IJIA was one of eight finalists from a competitive pool of 40 submissions for the coveted international award. Last month, eleven panelists convened in Beirut, Lebanon to review individual and organizational entries from around the globe. The overriding criterion for awarding the Mohamed Makiya Prize is the exemplification of celebrating and championing the best of architecture in the Near East and North Africa.
Dr. Gharipour's publication, IJIA is published bi-annually and features peer-reviewed articles on the urban design, architecture and landscape architecture of the historic Islamic world, encompassing the Middle East, parts of Africa and Asia, as well as more recent geographies of Islam in its global dimensions. The journal emphasizes the detailed analysis of the practical, historical and theoretical aspects of architecture, with a focus on both design and its reception. The journal also aims to encourage dialogue and discussion between practitioners and scholars.
 "The IJIA was celebrated for its courage and stamina in focusing on Islamic architecture at such a high academic level," said the judges. "It is one of the few, if not only, journals of its kind. And it brings together multidisciplinary, international scholars into its realm, as it aspires to a high standard of excellence. Its impact on practitioners and researchers contributes to creating a critical platform on the subject."
The award is named after Dr. Mohamed Saleh Makiya, an Iraqi architect whose influence and importance remains impactful on the region's architectural community today. The inaugural award was conferred in 2014 in honor of Dr. Makiya's 100th birthday. Previous Mohamed Makiya Prize recipients includes Aga Khan Documentation Center at the Massachusetts Institute of Technology (MIT), and Professor Khaled Al-Sultany of Iraq.
"The judging panel was impressed with the quality of work submitted for the Mohamed Makiya Prize 2019," said Ahmed Al-Mallak, founding director of Tamayouz Excellence Award. "We congratulate the IJIA for its work and its many accomplishments that it has achieved in less than 10 years. The journal has proven to be an important source for researchers and academics worldwide, which covers important issues and challenges that face our region."
Dr. Gharipour will accept the Tamayouz Excellence Award's 2019 Mohamed Makiya Prize in Jordan this December.