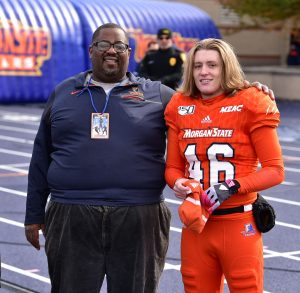 BALTIMORE, Md. – A new program at Morgan State University (MSU) aims to strengthen the on-campus relationship between athletics and academics by offering new insight into the student-athlete experience.
Morgan's Athletics Department initiated and launched the Guest Coach Program, which presents select staff and faculty members with a unique opportunity to engage with student-athletes outside of the classroom while furthering a better, more comprehensive understanding of their day-to-day obligations and challenges. As a "guest coach," the participating faculty or staff member becomes more familiar with the type of effort Morgan student-athletes put forth to be successful in and out of uniform.
In addition, through this exclusive first-hand experience, the program attempts to pull back the curtain for faculty members, providing more information on the breadth of athletic activities and programs being offered and its impact on student-athletes. Additionally, the Guest Coach Program offers gainful insights into the role coaches play in the student-athlete's educational process. The select professor(s) will get to shadow a student for a complete day — watching them practice, workout, study and compete.
The inspiration behind the program was sparked at the Morgan State Athletic Department's 2019 Summer Retreat, when members of the retreat's Education Committee were challenged to develop an engaging and a thoughtful way to bridge the gap of understanding between academics and athletics. Their brainstorming resulted in the birth of the Guest Coach Program.
"Our guest coaching program enhances our student-athletes' experience at Morgan State," said Robert Anderson, director of External Operations for MSU Athletics. "As a committee, our main objectives are to enhance the bond between student-athlete and professor and strengthen the relationships with our on-campus partners and respective business units. Overall, this will continue the support our student-athletes needs on and off the field."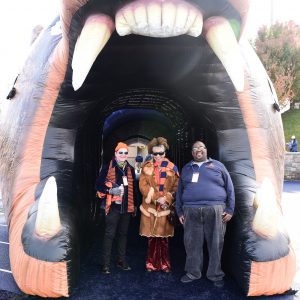 The first participants of the Guest Coach Program were chosen by the Education Committee with input from select student-athletes. Multi-media Journalism professor Hamil Harris from the School of Global Journalism and Communication, and associate professors of Biology Gabrielle L. McLemore, Ph.D. and Ernest Steele, Ph.D. from the School of Computer, Mathematical and Natural Sciences were presented with the inaugural opportunity. All three began their new immersion into the student-athlete experience on the day that the Bears Football team would host a home game against the North Carolina A&T Aggies.
The faculty members opened their gameday in the morning with Athletics learning specialist Chad Allen. Allen provided the professors with a tour of the athletic academic centers, training room, and the strength and conditioning area inside Hill Field House. This candid gameday walkthrough experience showcased their student's out of the classroom skills in a more direct and intimate way.
"The guest coach experience was designed to better illustrate to our on-campus faculty how equally invested Morgan's athletic department is to the success of our student-athletes by providing additional learning resources, personal development and career readiness opportunities," said Allen. "We also used the opportunity to showcase our GRIT (Growth, Resilience, Integrity & Teamwork) which gives us our competitive advantage."
The professors were also taken to Legends Plaza where they saw the statues of Morgan's legendary head coaches Edward P. Hurt and Earl C. Banks, followed by a walkthrough of Hughes Stadium. While there, they toured the press box and video control room, stopping to get a bird's eye view of the newly renovated field, followed by a meeting with Morgan's first-year head football coach Tyrone Wheatley on the sidelines. Prior to the kick-off of the game, they were escorted to the on-field V.I.P. hospitality tent where they enjoyed the rest of the football game.
"Our guest coaches gained an appreciation for what our student-athletes juggle, and make sacrifices for, on a daily basis," said Director of Athletics Edward Scott, Ph.D. "This exercise is a demonstration of how much hard work and time they put into their sport in addition to their academic work."
Overall, the launch of the program was a success and provided these members of Morgan's faculty with a better knowledge of the type of well-rounded experience that Morgan student-athlete receives.
"This program is an excellent way for faculty to support our student-athletes," said Dr. McLemore. "All faculty members must see them excel in their element to be reminded that these young people are performing in ways (outside of the classroom) that most faculty cannot comprehend. The Guest Coach Program will inspire in each faculty member deep-seated feelings of admiration for our Bears."
About Morgan
Morgan State University, founded in 1867, is a Carnegie-classified doctoral research institution offering more than 125 academic programs leading to degrees from the baccalaureate to the doctorate. As Maryland's Preeminent Public Urban Research University, Morgan serves a multiethnic and multiracial student body and seeks to ensure that the doors of higher education are opened as wide as possible to as many as possible. For more information about Morgan State University, visit www.morgan.edu.
 MEDIA CONTACT(S):
Leonard Haynes, Athletics
(443) 855-3831
Larry Jones or Dell Jackson, University PR
(443) 885-3022