Personal Papers of the Late Morgan Faculty Great Provide Humanities Education, Career Experience for Students
BALTIMORE — The Institute of Museum and Library Services (IMLS) awarded Morgan State University (MSU) a one-year, $248,551 grant to implement a comprehensive interpretive project titled, "Ellen Irene Diggs: Creating Pathways for Young Pioneers." Based on the personal papers of Ellen Irene Diggs, Ph.D., a pioneering African-American scholar, researcher and former Morgan faculty member, the project chronicles her distinguished career, enabling a new generation of MSU students to benefit from her lifework. The collection is presently housed in the Earl S. Richardson Library's Beulah M. Davis Special Collections: Davis Room.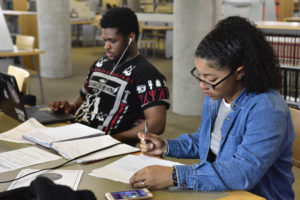 With the nearly $250,000 grant, Morgan will fund an internship program for more than 40 MSU undergraduate and graduate students and volunteers who will engage in archival research, preservation and anthropology. Project activities will include enhancement of public access to the Diggs collection, through an online exhibit, student posters and panels that will be part of the 120th Annual Meeting of the American Anthropological Association, in Baltimore, Maryland, Nov. 17–21, 2021. In addition, a professional development program funded by the IMLS grant, and implemented through the Richardson Library, Morgan's Department of Sociology and Anthropology, MSU's School of Education and Urban Studies, and the Reginald F. Lewis Museum of Maryland African American History and Culture, will include workshops and instructional materials for Morgan students. The program will also benefit more than 400 K–12 students in Baltimore during the grant project, by providing 90 teachers with enhanced curricula in humanities and social studies.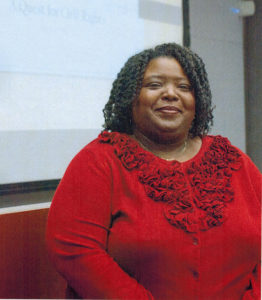 "Our intention is to really cultivate undergraduate and graduate students' interest in archival material as well as anthropology and research, and to have the students see how theoretical coursework can be applied to jobs and, especially, to careers," said MSU Archivist Ida Jones, Ph.D., director of the project, which is an interdepartmental, interdisciplinary effort.
Dr. Diggs was a generational, world-class practitioner and author in anthropology, sociology and higher education. Her career took her far beyond the boundaries set by Jim Crow in the racially segregated, sexist nation where she was raised. Born to working-class parents in the college town of Monmouth, Illinois, in 1906, she earned a B.A. in sociology at the University of Minnesota in 1928 and became an indispensable researcher and fact-checker for W.E.B. Du Bois while earning her master's degree in sociology at Atlanta University. She studied culture and race relations in Cuba, where she earned her doctorate, before beginning her academic career as a member of the faculty at Morgan State College (now Morgan State University) from 1947 to 1976. While at Morgan, she continued the Historically Black Institution's longstanding record of excellence in the humanities. Highlights of her prolific writing include numerous articles in the NAACP journal Crisis and a book considered a major contribution to African-American history, "Black Chronology: From 4,000 B.C. to the Abolition of the Slave Trade." She was also a frequent guest commentator on radio and television in the Baltimore-D.C. area and remained relevant to struggles for social justice throughout her career, serving on a commission that examined the lack of controls and standards of care in Maryland prisons in the 1960s, for example.
"Through this project, we want to have our students understand our past to understand our future," said Dr. Jones. "Morgan faculty and students were in concert doing (human rights and civil rights) work in the 1940s, '50s and '60s, and we need to resurrect those blueprints and reapply them."
The project team is rounded out with the addition of Morgan's Tracy R. Rone, Ph.D., interim director for Innovation and Community Partnerships in the School of Education and Urban Studies, serving as co-project director; and Angela Howell, Ph.D., associate professor of Sociology and Anthropology, Simone Gibson, Ph.D., associate professor of Teacher Education and Professional Development, and Thurman Bridges, Ph.D., associate professor and chair of the Department of Teacher Education and Professional Development, providing classroom instruction to students.
"I am super excited about this opportunity, because it showcases Morgan, a state institution and an African-American institution, for a nationwide audience of anthropologists," added Dr. Jones. The grant funders were excited as well, she reported. "They had glowing commentary about the nature of our grant proposal, how well written it was and how ambitious it was, and they stated that if successful, it could serve as a template for other HBCUs."
MEDIA CONTACT(S):
Larry Jones or Dell Jackson, University PR
(443) 885-3022