More Than 500 Candidates to Participate in University's Seventh Annual Fall Commencement
Morgan State University (MSU) President David Wilson announced today that U.S. Rep. James E. Clyburn (D-S.C.) will be the main speaker for the University's seventh annual Fall Commencement ceremony, to be held on Friday, Dec. 13, 2019, beginning at 9:30 a.m. in the University's Talmadge Hill Field House. Congressman Clyburn's speech will be delivered before a diverse group of more than 500 doctoral, master's degree and baccalaureate candidates. Inventor and pioneer in the field of cellular and wireless communications Jesse E. Russell will also be in attendance to receive an honorary doctorate during the exercises.
The occasion marks a return to the campus for Congressman Clyburn, who in 2005 provided the keynote address for Morgan's graduation ceremony. He was also presented with an honorary Doctor of Public Service at the time.
"In this current political environment, which has left us facing a deficit in national leadership and moral courage, it is encouraging that we still have voices like that of Congressman James Clyburn and that our graduating students will have an opportunity to hear from him on this joyous occasion," said President Wilson. "It is an honor that Congressman Clyburn accepted the invitation to return to our National Treasure to address our future leaders. We look forward to receiving what he will impart during the Commencement ceremony."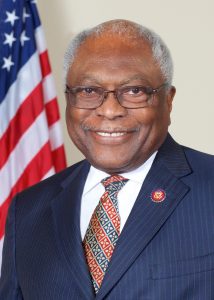 Congressman James E. Clyburn, who represents South Carolina's Sixth Congressional District, serves as the majority whip and is the third-ranking Democrat in the United States House of Representatives. He came to Congress in 1993 and was elected co-president of his freshman class, quickly rising through the leadership ranks. The congressman was subsequently elected chairman of the Congressional Black Caucus then vice chair and later chair of the House Democratic Caucus.
As a national leader, Congressman Clyburn has championed rural and economic development and many of his initiatives have become law. His 10-20-30 federal funding formula was included in four sections of the American Recovery and Reinvestment Act. Congressman Clyburn is also a passionate supporter of historic preservation and restoration programs. His efforts have restored scores of historic buildings and sites on the campuses of Historically Black Colleges and Universities (HBCUs). (In 2016, Morgan was designated as a National Treasure by the National Trust for Historic Preservation.) His legislation created the South Carolina National Heritage Corridor and the Gullah/Geechee Cultural Heritage Corridor, elevated the Congaree National Monument to its current status as a National Park and established the Reconstruction Era National Monument in South Carolina's Lowcountry.
His memoir, "Blessed Experiences: Genuinely Southern, Proudly Black," was published in 2015 and has been described as a primer that should be read by every student interested in pursuing a career in public service. Congressman Clyburn's participation as Morgan's commencement speaker marks the third consecutive MSU graduation ceremony in which a member of Congress was selected for the honor. The late Congressman Elijah Cummings delivered the keynote address for the 2019 Spring Commencement, and U.S. Sen. Elizabeth Warren addressed the Fall 2018 Commencement graduates.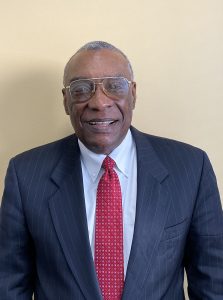 Joining Congressman Clyburn on the platform will be inventor and engineer Jesse Eugene Russell, who will be awarded with an honorary degree. A product of an Historically Black Institution, Tennessee State University, Russell is recognized globally as an expert and thought leader in wireless communication and as a business executive. He currently serves as Chairman and CEO of incCOMMUNICATIONS Services Inc., a 5G ultrawideband hybrid fiber-wireless communications solutions company, and holds more than 100 U.S. Patents to his credit in the field of communication engineering.
He has more than 20 years of experience with business development as it relates to communications technologies, and for the past nine years served as member of the Federal Communications Commission (FCC) Technological Advisory Council (TAC). After earning his bachelor's degree in electrical engineering, Russell became the first African American to be hired by AT&T Bell Laboratories directly from an HBCU. The next year, he earned his M.S. degree in electrical engineering from Stanford University.
During his tenure as an engineer at AT&T Bell Laboratories, in 1988, Russell developed the world's first digital cellular base station, which paved the way for never before seen digital services for cellular mobile users. Regarded as a leader in communication technology in cellular devices, included among the numerous patents he holds are the "Base Station for Mobile Radio Telecommunications Systems" (1992), the "Mobile Data Telephone" (1993) and the "Wireless Communication Base Station" (1998).
In between serving for more than 14 years as Chairman of the Telecommunication Industry Association (TIA) Wireless Communication Standards Organization, Russell has won a number of prestigious awards for his innovation and leadership and has been invited to participate in a variety of professional conferences and present before numerous organizations. He received the Outstanding Young Electrical and Computer Engineer Award from Eta Kappa Nu in 1980 and received the Black Engineer of the Year Award in 1992 for the best technical contributions in digital cellular and microcellular technology.
About Morgan
Morgan State University, founded in 1867, is a Carnegie-classified doctoral research institution offering more than 125 academic programs leading to degrees from the baccalaureate to the doctorate. As Maryland's Preeminent Public Urban Research University, Morgan serves a multiethnic and multiracial student body and seeks to ensure that the doors of higher education are opened as wide as possible to as many as possible. For more information about Morgan State University, visit www.morgan.edu.
# # #
MEDIA CONTACT(S):
Larry Jones or Dell Jackson, University PR
(443) 885-3022