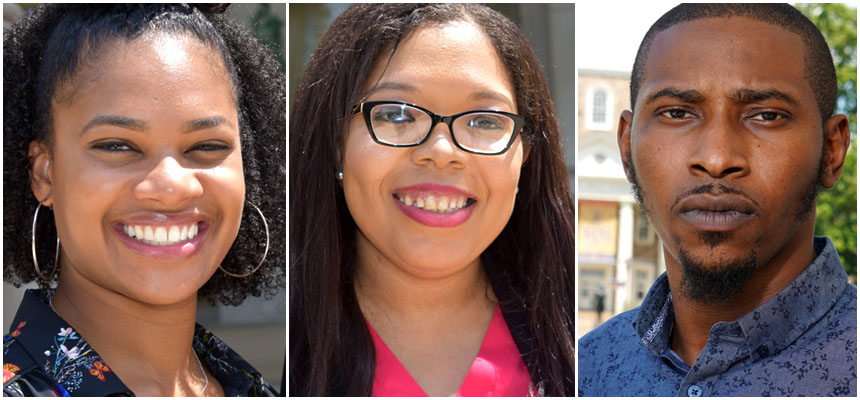 Three Morgan State University advanced doctoral students have been selected to spend the fall 2018 semester at other institutions while working on their dissertations. In addition, all three will serve as adjunct faculty and will be involved in professional activities at the partnering institutions. The students, Alexandra Burrel (Higher Education Administration) and Tracy Cudjoe (Social Work) are the first doctoral students to participate in the newly formed Morgan – Monmouth Mentorship Scholars Program in New Jersey, while Otis Eldridge, Jr. (Higher Education Administration) will complete the semester at James Madison University (JMU) in Virginia, as part of an ongoing collaboration with Morgan.
Dr. Willie Bragg, assistant dean for the School of Graduate Studies and director for the Division of Academic Outreach and Engagement's Center for Continuing and Professional Studies, is the liaison for the Morgan-Monmouth partnership and views the external doctoral experience as extremely valuable, given the challenges and changing landscape in higher education. Dr. Sandra Chipungu, interim dean and professor, for the School of Social Work, and Dr. Glenda Prime, professor and chairperson for the Department of Advanced Studies, Leadership, and Policy in School of Education and Urban Studies are serving as faculty mentors for the doctoral fellowships.
Monmouth University (MU) launched the Mentorship Scholars Program for the 2018-2019 academic year. For their participation, the two Morgan students will serve as Mentor-Scholars in MU's School of Education and the School of Social Work for the fall semester. Each will teach one course, participate in program activities, and develop a capstone project about the experience. In exchange, both students are being provided with free MU housing, a stipend, professional development opportunities, and a faculty mentor. The purpose of the collaborative program is to diversify faculty, expand student research opportunities, increase cross-cultural exposure and experience among faculty and students, and expand opportunities for collaboration and educational exchange.
When asked about the experience of visiting Monmouth prior to the beginning of the fall semester, Burrel and Cudjoe referenced such reasons as having a "chance to meet our Monmouth mentors and faculty, discuss semester activities, and see housing accommodations" as a key turning point in their participation.
"I am truly grateful for the opportunity to represent Morgan State University as a scholar within this Monmouth University partnership," said Burrel. "I am not only looking forward to being immersed in the campus culture, but also developing my knowledge base and skills in regards to faculty/student support inside and outside of the classroom."
Cudjoe sees the fellowship as a rewarding experience for a doctoral candidate in social work. "This partnership will allow me to make a worthwhile contribution to the Monmouth University School of Social Work's mission for intervention in vulnerable communities while advocating for social reform," said Cudjoe.
For Otis Eldridge, he is the eighth doctoral student participating in the Preparing Future Faculty (PFF) Program at JMU. The JMU PFF was set up to provide teaching opportunities to doctoral candidates prior to the completion of their dissertation and also to create opportunities to attract more minority candidates to the teaching profession. The PFF program provides mentorship, contributes to the atmosphere of inclusivity, brings new perspectives to students, and promotes diversity.
Upon visiting JMU for the first time, Eldridge was impressed with the campus environment. In preparation for his fellowship activities, he met with the dean of Education and the coordinator of educational leadership and will be involved in developing a seminar and sharing the latest research relative to minority student populations.
"I am sure that my experience and expertise in this arena will be of great benefit to the future school leaders that I will instruct," said Eldridge. "I envision that they will have quite a bit to teach me as well and I am grateful for the opportunity to represent Morgan State University in such a positive capacity."