Nigerian Delegation Visits the University to Observe Progress, Research Capabilities in Preparation for More than 80 Doctoral and Postdoctoral Candidates in Fall 2021
BALTIMORE — A first-of-its-kind collaboration between Morgan State University (MSU) and the Tertiary Education Trust Fund (TETFund), a fiduciary and funding agency of the Federal Government of Nigeria, will bring more than 70 Nigerian doctoral students and more than 15 Nigerian postdoctoral students to MSU for scholarship and research during the Fall 2021 semester, the university has announced. A significant increase in applicants yielded more acceptances in the program surpassing original projections.
"The leadership team of Morgan State University extends its thanks to the Federal Government of Nigeria, Executive Secretary Suleiman Bogoro and the TETFund for this unique and historic opportunity to achieve our common goals in social advancement, economic development and most important the academic exchange and advanced degree attainment within the African continent," said MSU President David K. Wilson.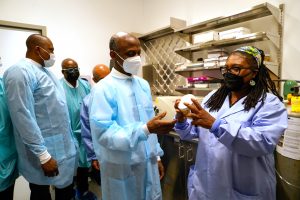 A TETFund delegation of 8 administrators visited Morgan's campus in person and virtually on June 21–23, 2021 to meet with senior MSU administrators, discuss the proposed and ongoing research of the Ph.D. students being funded by the program and to learn more about the research and development capabilities of Morgan, Maryland's Preeminent Public Urban Research University and the largest Historical Black College or University (HBCU) in the state.
Yacob Astatke, D.Eng., assistant vice president for Morgan's Division of International Affairs, reported that the demand for admission to Morgan through the MSU-TETFund partnership this year greatly exceeded expectations, as more than 600 students applied. He anticipates multiple benefits to Morgan from the success of the partnership, as Nigeria produces intellectual capital to advance the nation toward its goals.
"Morgan has had great success over the past three years, raising our number of graduating Ph.D. students from 40 to 50 per year to close to 70, and sustaining that number. With the TETFund partnership, we will add close to 70 more doctoral graduates each year for the next five years," Dr. Astatke said. "It is easy to envision MSU rising from the pack to become the nation's leader in conferring Ph.Ds. to Black students. This will be a significant boost toward our strategic goal of moving Morgan from our current classification as an R2 ('high research') institution to an R1 ('very high research') institution."
Speaking to the progress of the partnership and its impact, Wilson continued "The COVID-19 pandemic, while it slowed the implementation of this partnership, also has provided our organizations with a greater motivation to move forward with our joint plans, by reminding us just how interconnected the world is today. This partnership between Morgan and the TETFund reflects the future of higher education, a future that will be increasingly international and collaborative."
The partnership's framework enables early, mid-level and senior career faculty and staff members of Nigeria's 238 public universities, colleges of education and polytechnics to pursue their Ph.Ds. and postdoctoral research at Morgan in fields ranging from science, technology, engineering and mathematics (STEM) to the liberal arts.
The MSU-TETFund partnership was launched in May 2020 with the signing of a memorandum of understanding. However, the program's timeline was disrupted by the COVID-19 pandemic during its inaugural year, which saw 17 Nigerian Ph.D. students engage in virtual and/or in-person learning at MSU in Fall 2020 through Spring 2021. The TETFund's five-year agreement with Morgan is designed to create a pathway for students to pursue Ph.Ds. and postdoctoral research in disciplines relevant to the developmental needs of Nigeria and move Morgan further toward fulfillment of its global aspirations. The agreement provides the doctoral students with scholarships and other grants to fully fund their tuition, fees and living expenses for at least three years and also calls for TETFund's establishment of Centers of Excellence in Nigeria, institutions designed to increase the research capacity of Nigerian higher education institutions through collaborative research with Morgan.
Dr. Astatke also anticipates a significant enhancement of Morgan's brand recognition and influence in Africa.
"As a result of the TETFund partnership, if it continues for 10 years, Morgan will have maybe 500 Ph.D. alumni in the leadership of the top universities in Nigeria, the most populous nation on the continent," he said. "The relationships we are building now will enable international research collaborations that will make a beneficial impact on generations to come."
About Morgan
Morgan State University, founded in 1867, is a Carnegie-classified high research (R2) institution offering nearly 120 academic programs leading to degrees from the baccalaureate to the doctorate. As Maryland's Preeminent Public Urban Research University, and the only university to have its entire campus designated as a National Treasure by the National Trust for Historic Preservation, Morgan serves a multiethnic and multiracial student body and seeks to ensure that the doors of higher education are opened as wide as possible to as many as possible. For more information about Morgan State University, visit www.morgan.edu.
Media Contact(s):
Larry Jones or Dell Jackson, University PR
(443) 885-3022