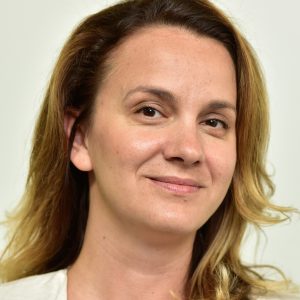 School of Architecture and Planning professor Pavlina Ilieva partnered with architect Kuo Pao Lian of PI.KL Studio to participate in the 2018 Light City festival. Together, the pair, in collaboration with Post Typography and Figure 53 along with participation from SA+P alumni and students, produced the subaquatic installation 'Some Thing in the Water' in downtown Baltimore at the Inner Harbor.
'Some Thing in the Water' was an underwater light installation that blurred the boundaries of fantasy and reality and invited audiences to explore their imaginations. Using an array of lights below the water's surface, the installation conveyed a mysterious underwater world filled with luminescent creatures.
Set to an ambient soundtrack that filled the space between Pier 5 and the Baltimore Aquarium, the 33,000 square foot installation featured 200 LED blue lights, strung together with six miles of wire. Glowing from beneath the surface as a mysterious underwater creature, the lights were programmed to blink, dim, and brighten so that at times they appeared more energetic and frenzied, and at other times it was quieter almost contemplative, like the motion of a great symphony.