Effort Launched to Encourage HBCU Graduates to Pursue Careers in Architecture and Conservation
Six Morgan State University School of Architecture and Planning (SA+P) students recently participated in a special, historic preservation rehabilitation initiative to restore The Peale Center courtyard in Baltimore. The Peale Center is the oldest museum building in America. The effort is part of a pilot program, currently underway, to bring African American young professionals into historic preservation and related career paths, such as architecture and conservation, and raise awareness of the cultural legacy of Historically Black Colleges and Universities (HBCUs).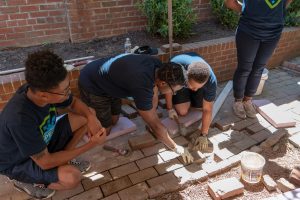 The project –"Touching History: Preservation in Practice"– comes by way of a partnership between the Advisory Council on Historic Preservation (ACHP), the National Trust for Historic Preservation's HOPE Crew, Morgan State University,  and the National Park Service's Western Center for Historic Preservation. Prior to their work in Baltimore, the six SA+P students spent June 11-21 training at the Western Center for Historic Preservation, located at White Grass Ranch in Grand Teton National Park in Jackson Hole, Wyoming. The project is being funded by the National Park Service with in-kind donations from the ACHP and the National Trust's African American Cultural Heritage Action Fund
While at the Center in Wyoming, the architecture students, Akiel Allen, Tiffany Dockins, Nathaniel Mitchell, Jamil Nelson, Taylor Proctor, and Monique Robinson, learned about the guiding principles for field-based historic preservation, documentation, hands-on treatment, and heritage asset maintenance planning. They visited Bill Menor's homestead buildings, Menor's Ferry, and the Maud Noble cluster in Grand Teton and identified small and large treatment work performed, and evaluated them against the Secretary of the Interior's standards. They also assessed the current condition of the site, structures, and landscape features.
"Through this program, we hope to bring more African American young professionals into historic preservation; American craftsmanship; and related fields, such as architecture, landscape design, and urban, regional, and community planning," said ACHP Chairman Milford Wayne Donaldson FAIA. "The preservation community should reflect the diversity of our nation as we work together to capture the true stories—from slaves and abolitionists, to soldiers, and entrepreneurs—that should be preserved in historic places and historic parks."
The U.S. preservation, architecture, and construction engineering fields have a diversity challenge. According to the National Architectural Accrediting Board, the organization that accredits architectural education programs, there is little to no growth in the proportion of African American and Latino students in architecture since 2009. According to its report, the majority of architecture students—42 percent—are white. The next-largest group—19 percent—is made up of non-resident international students, which has increased from just 6 percent in 2009. Only 0.3 percent of licensed architects are African American women.
"Living in Baltimore, surrounded by history, and, now, learning about historic preservation, makes me more aware of the need to save these historic places for the future," said Proctor, a recent graduate of MSU in architecture. "If many of the historic places disappear, we would lose the fabric that gives Baltimore its identity."
The students are working with HOPE Crew, named for "Hands-On Preservation Experience," on various projects now through July 20. In an effort to engage a new generation of preservationists, the National Trust launched the HOPE Crew to train more young people in preservation crafts while helping to protect historic cultural sites on public lands.
"The success of HOPE Crew highlights a hands-on approach to saving places that—beyond addressing deferred maintenance at historic sites—is making a positive difference in the lives of future preservationists and the communities where they serve," said Monica Rhodes, associate director of the National Trust's HOPE Crew. "We're excited to continue broadening the preservation movement with our partners and to launch this new training program for college students while raising awareness of the rich cultural legacy of HBCUs."
July 23-27, the MSU students will be undergoing additional training at the National Park Service's Historic Preservation Training Center in Frederick, Maryland. Their final week, July 30-August 4, they will be taking field trips to historic places in the Baltimore-Washington, D.C. area.
As a final project in "Touching History: Preservation in Practice," the students will create a portfolio that will point out the importance of preserving and restoring the historic buildings that are a part of the MSU campus. MSU has 20 structures eligible for listing on the National Register of Historic Places. In addition, in 2016, the National Trust designated the university as a National Treasure and is partnering with Morgan to develop a preservation plan.
The Advisory Council on Historic Preservation is a member of the White House Initiative on Historically Black Colleges and Universities.
MEDIA CONTACT(S):
Lynne Richmond, ACHP
(202) 517-1484
lrichmond@achp.gov
Juvenio Guerra, NTHP
(202) 588-6030
JGuerra@savingplaces.org
Larry Jones, University PR
443-885-3022
Larry.Jones@morgan.edu