Crankstart and Osher Foundation Grants Total $1.6 Million in Funding for the Center for Continuing and Professional Studies
The Morgan State University (MSU) Center for Continuing and Professional Studies (CCPS) has announced the award of a $200,000 grant from The Crankstart Foundation to continue its support of the University's scholarship program targeting nontraditional students residing in the state of Maryland. The Crankstart Foundation scholarships support adult students returning to complete bachelor's degrees. The current round of funding, coupled with the foundation's 2016–17 award of $150,000, brings Crankstart's to-date contribution to the University up to $350,000.
As a charitable organization, The Crankstart Foundation supports education but also impacts communities through arts and culture as well as parks and human services. The organization provided funding in Fall 2016 for Morgan's scholarship program to benefit nontraditional adult students. The inaugural cohort of Crankstart scholars was selected in Spring 2017 and given the opportunity to advance their educational goals.
"I am excited about the additional grant and grateful for the first award from The Crankstart Foundation," said Willie A. Bragg, Ph.D., who manages the scholarship programs as director for CCPS and serves as assistant dean for Morgan's School of Graduate Studies. "The adult population is changing the landscape of college campuses across the U.S., and current studies report that nontraditional students, aged 25 and older, represent approximately 40 percent of the college-going population."
"Morgan reflects this trend," added Dr. Bragg. "This award will aid in establishing sustainability for the University's Crankstart Reentry Program and create pathways for nontraditional adult students pursuing undergraduate degrees."
The Crankstart award builds on the existing endowment of $1.2 million from the Bernard Osher Foundation, a fund that was established in 2011. According to the Crankstart Foundation, the establishment of the scholarship program "was inspired by the Osher Reentry Program" now operating at Morgan through CCPS. "The need-based Crankstart scholarships are aimed at reentry students who show academic promise and are committed to obtaining a baccalaureate degree," the foundation added.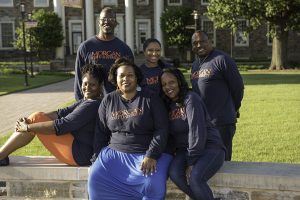 The Crankstart and Osher scholarship programs target adult students aged 25–50 who are residents of Maryland, are experiencing a gap in their education of five years or more and are returning to pursue an undergraduate degree at the Morgan. As a result of the combined $1.6 million in funding provided by both foundations, adult scholars represent more than 22 majors across the eight schools and the James H. Gilliam, Jr., College of Liberal Arts. These majors include, among others, elementary education, social work, electrical engineering, computer science, actuarial science, psychology, architecture and environmental design, business administration, nutritional sciences, nursing, sociology and anthropology, English, multimedia journalism, and political science.
About Morgan
Morgan State University, founded in 1867, is a Carnegie-classified doctoral research institution offering more than 100 academic programs leading to degrees from the baccalaureate to the doctorate. As Maryland's Preeminent Public Urban Research University, Morgan serves a multiethnic and multiracial student body and seeks to ensure that the doors of higher education are opened as wide as possible to as many as possible. For more information about Morgan State University, visit www.morgan.edu.
# # #
MEDIA CONTACT:
Larry Jones, Morgan State University
(443) 885-3022