Five Scholars from the School of Computer, Mathematical and Natural Sciences to Spend 2018/19 Academic Year on the Google Campus in Silicon Valley  
Five Morgan State University students from the School of Computer, Mathematical and Natural Sciences will participate in a study-away initiative on the campus of Google, in Mountain View, California, for the 2018/19 academic year. The opportunity is part of an overall effort to expand accessibility to computer science education and expose minorities to opportunities in the technology sector by way of the Google Tech Exchange Program.
The Google Tech Exchange Program was established to offer students at Historically Black Colleges and Universities (HBCUs) and Hispanic-Serving Institutions (HSIs) the opportunity to take computer science and soft skills classes at the Googleplex for one year or one semester during their junior year. Beginning this fall, 65 rising juniors and five faculty members from 11 HBCUs and HSIs will be involved in the experience. In addition to Morgan, the other universities participating in the Tech Exchange program are Howard University, Florida A&M University, California State University Dominguez Hills, New Mexico State University, Prairie View A&M University, North Carolina A&T State University, Dillard University, University of Texas–El Paso, University of Puerto Rico–Mayaguez and Spelman College.
The five Morgan students participating in the program this year are Demetrius Robinson (senior), Morgan Whittaker (senior), Sarah Cooper (senior), Joshua Smith (junior) and Michael McDonald (junior). All five are computer science majors, and with the exception of Robinson, all will study at Google for two semesters.
"We are pleased that Google has recognized the great talent that our university is producing and has produced over the years. Morgan has a very strong computer science program. Providing this opportunity for our students to participate in a yearlong study-away program that allows them to integrate the theory of what they are learning in the classroom with its application in an innovative work environment like that on the Google campus is sure to be a phenomenal experience," said Morgan State University President David Wilson. "I applaud the leadership at Google in recognizing the value that Morgan and other HBCUs and HSIs are bringing to the innovation and technology space, and we look forward to sending scores of additional students to the Google campus in the years to come."
"Tech Exchange is a space we are creating, in partnership with HBCUs and HSIs, to ensure we are building with everyone and being inclusive of who is sitting at the digital table of innovation," said April Alvarez, Educational Equity Programs manager for Google. "This program is focused on increasing the number of black and Latinx students in the tech industry and Silicon Valley, exposing scholars to careers in the tech industry and empowering black and Latinx higher education through knowledge-sharing of industry best practices. We hope, through these partnerships, we'll strengthen our relationships with black and Latinx communities."
The primary benefits to students participating in the program include:
Access to state-of-the-art course content that is highly sought after in technology industries but may not be available at Morgan State University;
Acquiring soft skills needed to obtain jobs and work in tech industries;
Learning from a domestic exchange experience with peers from many other campuses; and
Acquiring a better understanding of Google and high-tech industries.
Morgan's Hongtao Yu, Ph.D., dean of the School of Computer, Mathematical and Natural Sciences, has been involved with Morgan's participation in the Tech Exchange Program from its inception, taking a prominent role in providing curriculum design and approval, program set-up, student selection and send-off, and programmatic considerations at both Morgan and at Google.
"The Tech Exchange Program will greatly broaden career prospects in the high-tech sector for the participating students, by having them leave the comfort of their home institution and surroundings to be immersed in Silicon Valley's culture of innovation," said Dr. Yu. "This unique opportunity to learn the skills that are currently most needed in the tech industry, hands-on, from one of the world's foremost technology providers, was one that neither Morgan nor our students could pass up."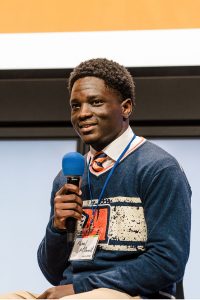 Most, if not all, of the classes being taken at Google will count toward the students' curriculum requirements for graduation at their home institutions. As the program progresses, all of the participating HBCUs will contribute by sending faculty members to the Google campus to teach classes, in collaboration with Google scientists/engineers. The program is now being offered by Howard University in agreement with Morgan State University, through a domestic exchange program. Each course taken has both a Howard University designation and a Morgan State University designation. Students may register for the courses at both Howard and Morgan.
Students will take a selection of applied computer science courses — including machine learning, product management, computational theory and database systems — throughout the year, from HBCU/HSI faculty and Google engineers.
"I'm excited to be a part of this program, because Tech Exchange has given us an opportunity to leave the college community and gain experience in the work community," said Morgan student Michael McDonald. "I'm looking forward to increasing my network, creating an opportunity to secure a full-time job and gaining more knowledge about my career. Being a part of Tech Exchange, I'm gaining experience in different roles in tech-based companies such as Google."
Visit the Google Blog to read their announcement regarding the launch of the Tech Exchange.
About Morgan
Morgan State University, founded in 1867, is a Carnegie-classified doctoral research institution offering more than 100 academic programs leading to degrees from the baccalaureate to the doctorate. As Maryland's Preeminent Public Urban Research University, Morgan serves a multiethnic and multiracial student body and seeks to ensure that the doors of higher education are opened as wide as possible to as many as possible. For more information about Morgan State University, visit www.morgan.edu.
# # #
MEDIA CONTACT:
Larry Jones, University PR
(443) 885-3022