The MSU Department of World Languages and International Studies in the College of Liberal Arts, working in collaboration with the University's Division of International Affairs, is spending much of the Winter Break this year on an educational mission in Oaxaca, Mexico.
The mission, led by Dr. Elizabeth Gunn, associate professor of Spanish, who brokered a Memorandum of Understanding (MOU) between Morgan State University and the University of Oaxaca for student study abroad opportunities.
"This study abroad program is a timely and critical intervention in our efforts at internationalization at Morgan," says Dr. Gunn. "It is to further Morgan State University's mission to offer a rigorous curriculum which addresses the connections between the local and the global."
The Institute of International Education's Open Doors data shows that 78% of U.S. students who studied abroad in 2010-11 were white. The next-highest percentage for a single group was 7.9% for the Asian student population, followed by 6.9% Hispanic and 4.8% black or African-American.
During the Winter Break in Oaxaca, Morgan students will attend class at the prestigious Language School at the University of Oaxaca. They will have the opportunity to explore Oaxaca's ancient cultures including a trip to Monte Alban, the ancient Zapotec pyramid complex. Participants also live with host families, one of the most rewarding parts of immersion study abroad.
"This is a pivotal moment in Morgan's effort to globalize the curriculum and put the world at our students' fingertips," according to Dr. Gunn.
The trip runs from January 3-17, 2015. Read about the group's experiences in Oaxaca (pronounced "Wah-ha-kah"), Mexico through their occasional blogs found here. You may also read more and view photographs of their journey on Facebook at: www.facebook.com/msuoaxaca2015
:::::::::::::::::
DAY ONE Travel Day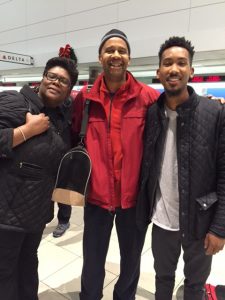 The first day of our trip, Saturday, January 3, 2015, was our official travel day, leaving from BWI and arriving in Oaxaca. The students met their host families that evening.
::::::::::::::::::
DAY TWO
Greetings from Oaxaca, Mexico!
This is day two here but our first full day in Oaxaca. We visited the ancient Zapotec pyramid complex, called Monte Alban. It was built as a sacred infrastructure in 500 BC. There is evidence that the Zapotec culture dates back 2,500 years with many ancient discoveries being uncovered in the region.
*See more photos at: www.facebook.com/msuoaxaca2015
::::::::::::::::::::::::::::::::::::::::::
DAY THREE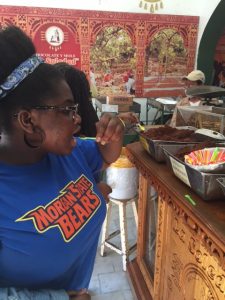 Monday, January 5, 2015
Today, the students began Spanish immersion classes at the prestigious University of Oaxaca Language School. They met their professors and classmates. Yes, study abroad means actual "studying" so our students will be in class from 9:00 a.m. until 1:00 p.m. everyday. They will also spend an additional 30 minutes in conversation practice with local students from the University of Oaxaca.
We toured the local market in Oaxaca and visited several museums. In the local market, the students sampled local cuisine, including fried crickets with chili pepper and lime. Several varieties of the local (and delicious!) chocolates were clearly the favorite.
*See more photos at: www.facebook.com/msuoaxaca2015
::::::::::::::::::::::::::::::::::::::::::
OAXACA, MEXICO / Days 4-9
Day 4 (Tue, Jan 6th): Second full day at the Autonomous Benito Juarez University of Oaxaca (UABJO).
Students met with their Mexican faculty from 9:00 a.m.-1:30 p.m. to continue learning or furthering their Spanish skills. Students also participated in cutting the "Rosca de Reyes," the traditional pastry served in Mexican households on Three Kings Day. MSU students also met their exchange partners, Mexican students at UABJO who study English. They began meeting regularly to practice Spanish and English at to forge friendships across borders. Students had a free afternoon to explore Oaxaca.
::::::::::::::::::::::::::::::::::::::::::
Day 5 (Wed, Jan 7th): Second day at UABJO.
After morning classes at the University, students took a dance class in the afternoon and learned a little bit of Cumbi and a little Salsa. We had a great workout and a wonderful time. Additionally, I met with UABJO administrators and faculty to discuss furthering the infrastructure and goals of the MSU-UABJO partnership. Exciting things to come for MSU students and faculty exchanges!
::::::::::::::::::::::::::::::::::::::::::
Day 6 (Thurs, Jan 8th):
UABJO senior administrators invited Dr. Kimberly Coleman, a participant in the immersion program and a Morgan faculty in Public Health, and myself to lunch to continue to discuss furthering the objectives and details of the Morgan State-University of Oaxaca partnership. We are indeed growing the future and leading the world!
::::::::::::::::::::::::::::::::::::::::::
Day 7 (Fri, Jan 9th):
After morning classes, we visited the Santo Domingo Cultural Center, one of the most beautifully preserved examples of Baroque Dominican architecture in Mexico. The Center houses relics from nearby ancient Monte Alban as well as colonial and revolutionary artifacts. It also houses one of the oldest libraries in the country. The Santo Domingo Cultural Center is one of Mexico's historical and educational gems. It is also quite beautiful.
::::::::::::::::::::::::::::::::::::::::::
Day 9 (Sunday, January 11th):
An excursion to Hierve el Agua, a set of natural rock formations in the Northern mountain range of Oaxaca that resembles cascades of water. We'll be hiking and perhaps taking a dip in the chilly and breathtaking natural springs.
::::::::::::::::::::::::::::::::::::::::::
DAY 9 (Sunday, January 11th – Continued)
We traveled outside of Oaxaca to the northern mountains to a location called "Hierve el Agua." The Zapotecs used the natural springs at this location as an irrigation system from 1300 BC. Students hiked and enjoyed the springs. On the way back to Oaxaca, we stopped at the village known as Tule for traditional Mexican cuisine in the local market. Most of us tried tlayudas (a toasted corn tortilla shell with cheese and meats). Tule is known for its ancient 2000-year-old tree, measuring more than 45 feet in diameter.
::::::::::::::::::::::::::::::::::::::::::
DAY 12 (Wednesday, January 14th)
We traveled to another town outside of Oaxaca. Arrazola is known as the location where the folkloric art of alebrijes originated. Alebrijes are mythical creatures carved from copal wood and painted by hand by artisans from the region. Students had the opportunity to visit an alebrije studio and participate in a workshop. Everyone painted their own to take home!
::::::::::::::::::::::::::::::::::::::::::
DAY 14 (Friday, January 16th)
Our last day in Oaxaca! Students took their final exams in the beautiful Oaxacan Graphic Arts Institute. Later in the day, students participated in a cooking class in which they made several dishes of local cuisine. Everyone did a bit of shopping before returning to spend the last evening with their host families. And finally, saying goodbye to their UABJO faculty who taught the students for 45 hours over the last two weeks.