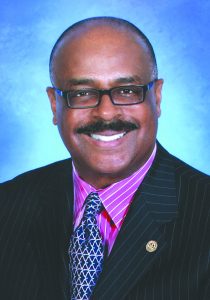 Morgan State University's Floyd E. Taliaferro lll, director of the University Student Center, stepped onto the campus of Morgan State College in September of 1970. The undergraduate and graduate student experience that followed enriched both the student and the institution and has led to Taliaferro's 44 years of employment with his alma mater. For his outstanding work that has benefited Morgan and the broader community for decades, the MSU Alumni Association was proud to name him as its 2018 Alumnus of the Year.
While matriculating at Morgan, Taliaferro served in many leadership positions, among them junior class president, senior class president, chief justice of the Student Court and organizer of many student trips and other activities. He continued to demonstrate his leadership ability after graduating from Morgan with a Bachelor of Arts in sociology in 1974 and a master's degree in recreation in 1979. In 2008, he revived the Morgan On-Campus Alumni Chapter by reaching out to fellow MSU employees campus-wide to become active members of the group. He also created the signature fundraiser for the chapter, Benefit for Books, in 2015, to assist students in need of college texts. Taliaferro is the current president of the On-Campus Alumni Chapter and remains an avid supporter of other MSU Alumni Association chapters as well.
Taliaferro's position as the community outreach liaison director for All Walks of Life, LLC, a family mental health community-based business, has afforded him the opportunity to create internships and provide scholarships and fellowships for Morgan students. He also served as the undergraduate advisor for the Alpha Iota Chapter of Kappa Alpha Psi Fraternity, Inc. for more than 18 years, assisting in the preparation of young Morganites to become men of integrity dedicated to service.
Taliaferro and his wife, Dr. Gwendola L. Taliaferro, are Life Members of the MSU Alumni Association. His son Floyd E. Taliaferro, IV, his son's wife as well as his other son, Mickael A. Taliaferro, and his nephew, Derrick Taliaferro, are all Morgan alumni.
Thanks to Floyd E. Taliaferro III for his longtime service to Morgan, and congratulations for this well-deserved recognition!