Dwayne Chambers Joins Office of Police & Public Safety Leadership Team, Bolstering Oversight of Operations and Campus Safety Initiatives
After conducting a comprehensive national search, Morgan State University (MSU) has appointed Dwayne Chambers as its new deputy chief for the Office of Police and Public Safety. Chambers, who reports to the university's chief of police, will assist in emergency preparedness initiatives, officer training, crime analysis and reduction, operations management, and enhancing campus safety, among other duties.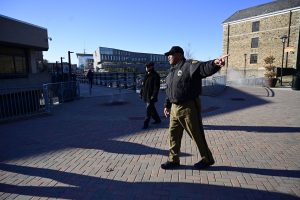 "Deputy Chief Chambers brings a wealth of law enforcement and community engagement experience to the Morgan community, including highly desirable experience working within a higher education environment," said Lance Hatcher, chief of police and public safety for Morgan. "His leadership capabilities are vast and will assist in advancing the Morgan State University Police Department as we venture into the future. He is a welcomed addition to the Morgan family who will undoubtedly place our students and community first."
In his capacity as Morgan's deputy chief of police and public safety, Chambers will participate in the university's efforts to create a respectful, inclusive, and welcoming environment for those that live on, work at and visit MSU's campus. He will play a key role in the overall public safety program at Morgan and will work collaboratively with other units within the university community.  In addition, Chambers will be expected to oversee the day-to-day operation of the police department and to assume the duties of the chief of police in his absence.
"If you walk long enough and talk long enough with a stranger, you will find that you have more in common with each other than not," said Chambers. "I welcome this opportunity to work alongside Chief Hatcher and support his plan to build and grow the Morgan State University Police Department into becoming the model other universities will attempt to duplicate."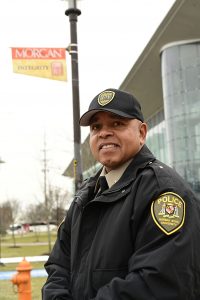 Before coming to Morgan, Chambers served as an investigator for the Department of Youth Rehabilitation Services in Washington, D.C. He brings to the university demonstrated experience in higher education law enforcement having served at three different institutions including Dillard University as chief of police, Grambling State University as assistant police chief, and North Carolina A&T University as a police sergeant.
A native of New York, who started his career in law enforcement with the New York City Department of Investigations as an investigator, Chambers received his Master of Business Administration from Pfeiffer University and his B.A. in Audiovisual Communications Technologies from Johnson C. Smith University. He officially joined the Morgan State University Police Department on January 15, 2020.
MSU's Office of Police and Public Safety is housed within the university's Division of Student Affairs. The university maintains a police force of 42 uniformed officers.
About Morgan
Morgan State University, founded in 1867, is a Carnegie-classified doctoral research institution offering more than 126 academic programs leading to degrees from the baccalaureate to the doctorate. As Maryland's Preeminent Public Urban Research University, Morgan serves a multiethnic and multiracial student body and seeks to ensure that the doors of higher education are opened as wide as possible to as many as possible. For more information about Morgan State University, visit www.morgan.edu.
# # # 
MEDIA CONTACT(S):
Larry Jones or Dell Jackson, University PR
(443) 885-3022