George Mason University's Dr. Oscar Barton Tapped to Continue Legacy of Producing Minority Engineers, Further Positioning Morgan's Leadership in Science and Engineering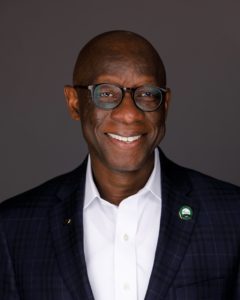 Morgan State University (MSU) President David K. Wilson has announced the appointment of Oscar Barton, Jr., Ph.D., P.E., as the University's new dean of the Clarence M. Mitchell, Jr., School of Engineering. The announcement comes following a nearly five-month long national search led by a University selection committee in collaboration with an executive search firm.
In his new capacity as dean, Barton will implement a vision for innovative strategic growth; provide leadership through a shared governance process of dynamic faculty, staff and students; manage multiple research centers and facilities; administer the School's budget; develop curricula and advance academic and research programs that prepare students for careers in the industries of the future.
Dr. Barton will report to Morgan's provost and senior vice president for Academic Affairs, Lesia L. Crumpton-Young, Ph.D. He replaces Craig Scott, Ph.D., who served as the School of Engineering's interim dean. His appointment is effective August 17, 2020.
"After conducting a thorough nationwide search, Provost Crumpton-Young, and I, are pleased to announce that Dr. Oscar Barton Jr., has accepted our offer to join the Morgan Family," said President Wilson. "To lead the University's highly touted School of Engineering into the future, we wanted an innovative administrator, an accomplished researcher/scholar and a dedicated educator who understands the challenges of and opportunities for a public urban research university, and with Dr. Barton, we've checked all of the boxes. His wealth of knowledge and experience will be a welcomed addition to our campus."
Willie E. May, Ph.D., vice president for Morgan's Division of Research and Economic Development (D-RED) headed the University's search committee. A total of 32 applications were received for the position, with 11 identified for initial interviews and the top four ultimately selected to participate in a series of interviews conducted virtually with members of the campus community. At the conclusion of the process, Dr. Barton stood out among the finalists, having received overwhelmingly positive feedback on the campus surveys and ranking the highest in the key categories of Leadership and Vision, Management and Resource Development.
"Morgan State University is a national treasure, and it humbles me that I have been entrusted to lead a faculty of immense expertise, a staff committed to purpose and a student-body of unbridled potential," said Dr. Barton. "Morgan's leadership under President Wilson and Provost Crumpton-Young stimulates entrepreneurship and innovation, essential elements critical to a school's success and that I will champion as dean of the School of Engineering. I am excited to join the Morgan State family and its community of leaders and change agents."
Dr. Barton currently serves as professor and founding chair of the Department of Mechanical Engineering at George Mason University's Volgenau School of Engineering. He joined the faculty at Mason in fall 2014, after completing a 22-year career at the U.S. Naval Academy. His research focuses on the development of approximate closed form solutions for linear self-adjoint systems, those that govern the responses of composite structures, and the analysis of dynamic systems. More recently, he investigated the dynamic response of flexible composite structures subject to periodic and random excitation. He has mentored numerous midshipmen through independent research projects and has directed two Trident Scholars, the Naval Academy's flagship research program. He has published more than 60 journal and conference articles on these topics. Barton is also a fellow of ASME (American Society of Mechanical Engineers) and is actively involved in academic innovations and program assessment.
A native of Washington, D.C., he received his B.S. in Mechanical Engineering from Tuskegee (Institute) University and his M.S. in Mechanical Engineering and Ph.D. in Applied Mechanics from Howard University.
Morgan's School of Engineering is home to a world-class faculty with expertise across various disciplines including, civil engineering; electrical and computer engineering; industrial and systems engineering; and transportation and urban infrastructure studies. Located on the north-side of University's 152-acre campus, the School of Engineering operates in a three-building complex, which includes the Clarence M. Mitchell, Jr. Building, the William Donald Schaefer Building, and a significant portion of the Center for the Built Environment and Infrastructure Studies (CBEIS). The School has accredited undergraduate programs in Transportation and Civil, Electrical, and Industrial Engineering, and graduate programs that offer the Master of Science, Master of Engineering, Doctor of Philosophy, and Doctor of Engineering in four disciplines.
In 2016, the School's inaugural dean Eugene M. Deloatch, Ph.D. retired after 32 years of impactful leadership and decorated service to the University. Dr. Deloatch, dean emeritus, also served as an advisor during the search process.
About Morgan
Morgan State University, founded in 1867, is a Carnegie-classified doctoral research institution offering more than 126 academic programs leading to degrees from the baccalaureate to the doctorate. As Maryland's Preeminent Public Urban Research University, Morgan serves a multiethnic and multiracial student body and seeks to ensure that the doors of higher education are opened as wide as possible to as many as possible. For more information about Morgan State University, visit www.morgan.edu.
MEDIA CONTACT(S):
Larry Jones or Dell Jackson, University PR
(443) 885-3022