Morgan State University President David Wilson has been selected to deliver the keynote address at the launch of Tuskegee University's new Booker T. Washington Leadership Institute on Friday, November 15. Dr. Wilson, a two-time Tuskegee University alumnus, will share his unique leadership perspectives with attendees. His presentation — "Transformative Leadership: A President's Perspective" — will be part of a new Tuskegee University initiative aimed at cultivating leadership among its employees and students.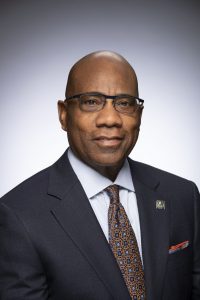 "It is a great honor to be invited back to the place that provided me with the foundation for leadership and presented with the opportunity to provide the address on this momentous occasion," said Dr. Wilson. "The launch of this institute will serve as a great inspiration and resource in the development of the next generation of leaders hailing from Tuskegee University."
Organizers behind the Booker T. Washington Leadership Institute hope to inspire even greater leadership potential on Tuskegee's campus by instilling a culture of excellence, inclusion, scholarship and service-learning. A year-round series of workshops — the first of which will feature Wilson as the keynote speaker — will serve as the institute's programming foundation. Booker T. Washington, whom the institute is named after, was the founder and first president of Tuskegee Normal and Industrial Institute, now known as Tuskegee University.
"We are looking to our new Booker T. Washington Leadership Institute to produce positive change — on campus, in our surrounding community, and through our nation and world," said Dr. Carla Jackson Bell, who chairs the institute in addition to her role as dean of the Robert R. Taylor School of Architecture and Construction Science. "For more than century, Tuskegee University has produced leaders — and this institute will cement that legacy for years to come."
Initially, the institute's programming will be tailored for Tuskegee's faculty and staff and geared toward exploring the impact of student learning and success. This will include focusing on innovative curricula and instruction and integrating student learning and success into community improvement efforts. Eventually, Bell noted, the institute's activities will expand to include students.
Wilson's higher education career has spanned three decades — the last third as Morgan State's 10th president. Previously, he served as chancellor of both the University of Wisconsin Colleges and the University of Wisconsin-Extension, as well as vice president for University Outreach and associate provost at Auburn University, and associate provost at Rutgers, the State University of New Jersey.
He holds a bachelor's in political science and a master's in education from Tuskegee University, a master's of education in educational planning and administration from Harvard University, and a doctor of education degree in administration, planning and social policy, also from Harvard.