The Public Relations Society of America Maryland Chapter (PRSA Maryland), the leading organization serving communications and public relations professionals in central Maryland, has elected Morgan's Dr. David Marshall, APR as its 2021 president. Marshall is professor and chair of the Department of Strategic Communication (SCOM) in the School of Global Journalism & Communication.
"I am really humbled and honored by the opportunity to serve the profession in this way. There is no better time than now to empower ethical and civil discourse. PRSA has always been about that, and our local chapter is going to take a lead in our region," Marshall said.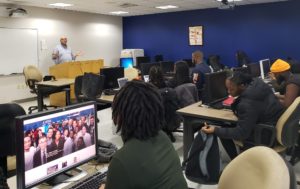 Marshall joined the board of directors of PRSA MD last year as part of his university duties of service to the profession. He served as nominations chair and coordinator of awards judging for a sister PRSA chapter competition. He also recruited and onboarded the chapter's first diversity, equity, and inclusion (DEI) co-chairs whose roles have since been elevated to board level positions.
In 2019, PRSA Maryland named Marshall "Educator of The Year" at the annual Best in Maryland competition. He has been active with PRSA National and The PR Council on plans to create diverse pipelines of talent by encouraging agencies to increase their recruitment efforts at Historically Black Colleges and Universities (HBCUs).
"Public Relations is an amazing field, but we know it is not very diverse. I am hoping that our chapter will continue its work promoting diversity, equity, and inclusion in the profession and encouraging PR agencies in Baltimore and beyond to provide meaningful entry-level opportunities for students of color," Marshall said.
Just last month PRWeek named SCOM as one of five national finalists for Outstanding Education Program. Faculty being actively connected to the industry was a consideration by judges.
Marshall said Morgan's faculty have a long-standing tradition of being leaders in their respective professional societies and then applying that experience in the classroom to benefit student learning. He is hoping that his term as president will upskill his own abilities so he can help boost the career success of SCOM majors.
PRSA Maryland was established in 1961 to help public relations and communications professionals stay connected professionally and personally. As part of the nation's largest and foremost organization of communication professionals, PRSA Maryland offers networking, training, resources, and support to assist members in practicing public relations.