Two Morgan State University graduates received awards for their research and scholarship this year from the Council of Historically Black Graduate Schools (CHBGS). Simone R. Barrett, Ph.D., was presented with the CHBGS ProQuest Dissertation Award, and Anish Bhandari received the CHBGS ProQuest Thesis Award, at the Council's 48th Annual Conference, in Fayetteville, Ark., in February. The CHBGS "was founded in 1970 to support and promote graduate education at…HBCUs," the Council's website states. The organization's primary mission is "to increase the enrollment, retention and graduation of African-American students in graduate programs and to prepare them to become future faculty and leaders."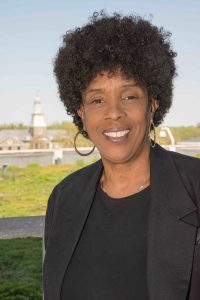 Dr. Barrett holds three academic degrees from Morgan, including a B.A. in history (2006), an M.A. in museum studies and historical preservation (2010) and a doctorate in history, which she received during MSU's December 2017 Commencement. The research work that earned her the Dissertation Award is titled " 'We Bring Thee Our Laurels Whatever They Be': A Concise History of Morgan State Student-led Protest." The dissertation utilized recent research in social movement history to examine the local and regional civil rights movement, with a focus on the leading role of Morgan student activism. Dr. Barrett is now an administrative/research specialist in Morgan's Robert M. Bell Center for Civil Rights in Education.
Bhandari has worked as a scientist for the bioanalytical and toxicology services firm Smithers Avanza since October 2017. The research for his thesis, part of his work toward the M.S. in biology he received from Morgan this past December, was centered on a novel technique in high-speed evaporative crystallization known as MA-MAEC, led by the University's Aslan Research Group. The thesis is titled "High Throughput Crystallization of Glutathione Using the iCrystal System and Metal-assisted and Microwave-accelerated Evaporative Crystallization (MA-MAEC) Technique."
Congratulations to Anish Bhandari and Dr. Simone Barrett for their CHBGS honors, and to Mark Garrison, Ph.D., dean of Morgan's School of Graduate Studies, who was also recognized during the conference as the award recipients' graduate dean.