The Root.com, an online magazine with a focus on African-American perspective, recently released its annual list of the 100 most influential African Americans, ages 25 to 45. Included among the list of notables, which features such names as Beyoncé, Colin Kaepernick, and Issa Rae, is Morgan's own Dr. Lawrence Brown, an associate professor in the School of Community Health and Policy. Dr. Brown, who appears at the number 61 spot on the list, was recognized in part for his work as the co-founder of #BMoreLeadFree, a campaign to raise awareness about lead poisoning in Baltimore. He also was cited for having recently being honored with the "Bold Thinking Award" for social justice.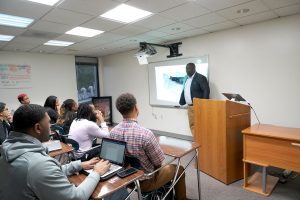 The Root 100 honors the innovators, the leaders, the public figures and game changers whose work from the past year broke down barriers and paved the way for the next generation. Per the Root, this year's list of honorees serves as a reminder of the beauty and brilliance of blackness, at a time when the political and cultural landscape has grown even more hostile to the idea of black achievement. The individuals that appear on the list are selected using a unique algorithm, which calculates an honorees' reach — the people they touch through media and Twitter followers — and their substance— the impact of their work, graded on a scale of 0 to 10. It then uses that data to determine their influence, which in turn defines their ranking. Hundreds of people were scored before ultimately finalizing The Root 100.
The complete list can be reviewed online. The Root is owned by Gizmodo Media Group (Univision Communications).
Morgan's School of Community Health and Policy (SCHP) was created in 2005 to expand the University's health mission and program offerings to better respond to the need for a well prepared, diverse, culturally responsive health professions workforce. With a focus on urban communities, elimination of health disparities, and practice-based service learning, SCHP offers a range of unique graduate and undergraduate academic opportunities in Public Health, Nutrition, and Nursing.
Congratulations to Dr. Lawrence Brown for receiving this recognition and continuing to exemplify Morgan's commitment to purpose-driven, community-based research.