The School of Architecture and Planning (SA+P) recently hosted its fourth annual Design-Health Symposium at the Center for the Built Environment and Infrastructure Studies (CBEIS). The annual event assembles the area's foremost authorities on architecture and design for medical and healthcare facilities spanning academics, practitioners and students in architecture, interior design, and the healthcare fields.
Sponsored by ZGF Architects, AIA Baltimore, and Design-Health Solutions, the SA+P Design-Health Symposium examined the synergistic connections between health, equity, and architecture. The centerpiece of the symposium was an interdisciplinary panel led by industry experts Erik J. Aulestia, principal at Torti Gallas+Partners' Region and Town Planning Studio; Tracey Gersh, Ph.D, executive vice president & COO, CHI Healthcare; Raymond A. Grahe, CEO of Trivergent Health Alliance MSO; and Rolf Haarstad, senior vice president of CRGA DESIGN.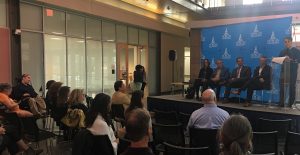 Morgan SA+P students in attendance had the unique privilege to hear perspectives on architectural design theories and concepts, as well as methodologies taught in the classroom from industry practitioners and thought-leaders. The panel discussion centered on how today's healthcare system addresses the issues of health equity – with considerable focus on the instrumental roles physical design and schematics play in healthcare facilities. An overriding theme to the general conversation which spanned improving access to quality and affordable care among urban populations in the context of regional hospitals and community clinics to the integration of emerging technologies and sustainable E4H architecture.
Other topics covered by the panel included the impact design decisions have on the perception of health equity and how designers can involve healthcare practitioners and end-users in the design process. Panelists presented best practices on effective healthcare delivery and proposed ways to engage healthcare facilities in the U.S. and abroad.
The Design-Health Symposium was organized by Mohammad Gharipour, Ph.D, professor of Architecture and founder of the Community, Design, and Health Forum at Morgan State University.