Morgan State University Athletic Director Edward Scott, Ph.D., will be a featured participant at a forum on the "State of the Black Student-Athlete in America" during the 2019 Congressional Black Caucus Foundation (CBCF) Annual Legislative Conference (ALC) in Washington, D.C.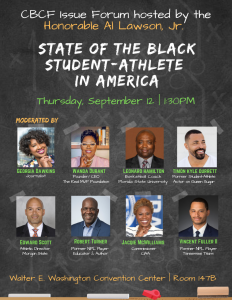 Hosted by U.S. Rep. Al Lawson (FL-05), the two-hour policy forum is scheduled to take place on Thursday, September 12 at 1:30 p.m. and will feature a multifaceted, diverse collection of subject matter experts examining the pressures and economic responsibilities black student-athletes face today. The policy forum promises to delve deeper into such hot-button issues such as those recently raised by critically acclaimed journalist, Jemele Hill, in her thought-piece It's Time for Black Athletes to Leave White Colleges.
Among the other topics included in the agenda is whether students are being prepared academically for life outside of sports, the inequities between historically black institutions and other colleges, mental health awareness, the role of social activism and what happens after the game is over."
College athletics is a multibillion-dollar business, and oftentimes, a black student-athlete serves as the face for an institution where he or she may not otherwise have access," Rep. Lawson said. "These young men and women are essential to the revenue generated by college athletic programs. That is why it is vital that we have conversations like these, with as many voices as possible – students, coaches, administrators, policymakers, if we truly want to see positive change."
The "State of the Black Student-Athlete in America" panelists include:
Dr. Edward Scott, Athletic Director, Morgan State University
Wanda Durant, Founder/CEO of The Real MVP Foundation
Timon Kyle Durrett, Actor, OWN's "Queen Sugar," and former student-athlete
Vincent Fuller II, Former NFL Player and Student-Athlete
Leonard Hamilton, Head Basketball Coach, Florida State University
Jacqie McWilliams, Commissioner, Central Intercollegiate Athletic Association
Robert W. Turner II, Ph.D., Former NFL athlete and author
Stan Wilcox, Executive Vice President, National Collegiate Athletic Association
Georgia Dawkins, an award-winning author, producer and journalist will serve as the moderator.
The CBCF Annual Legislative Conference is the leading policy conference on issues impacting African Americans and the global black community. More than 10,000 people attend the conference annually to discuss economic development, civil and social justice, public health and education issues. The theme of this year's conference, "400 Years: Our Legacy, Our Possibilities," commemorates the first Africans landing at Point Comfort, Va. In 1619.
Dr. Scott was appointed as the University's director of Intercollegiate Athletics in 2016.