Dear Morgan Community:
It is with profound regret that I announce Dean DeWayne Wickham's decision to step down from his leadership of the School of Global Journalism & Communication (SGJC) in the summer of 2021.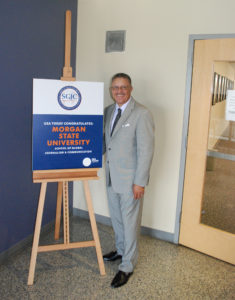 Dean Wickham came to Morgan at my invitation in 2012 to lead the effort to transform the University's Department of Communication Studies into just the fifth journalism school among the nation's 107 Historically Black Colleges and Universities (HBCUs).
Under his leadership, SGJC's faculty has grown to include three Pulitzer Prize winners, a winner of four national Emmy awards, and a highly regarded national cable news commentator. In addition, the school has established faculty exchanges with Penn State University's Bellisario College of Communications and Brigham Young University's School of Communications; and created other academic partnerships with West Virginia University's Reed College of Media and Arizona State University's Cronkite School of Journalism and Mass Communication.
During his tenure, SGJC has placed students in internships with some of the nation's top media and mass communication firms – among them The New York Times, The Wall Street Journal, CBS News, USA TODAY, the Baltimore Sun, Abel Communication and the Annie E. Casey Foundation. Much of this was made possible by way of the experiential learning opportunities students receive in the performance centers that Dean Wickham made an essential part of SGJC's academic structure.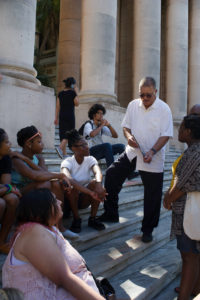 Over the past six years, SGJC has received financial support from The Knight Foundation, Ford Foundation, Annie E. Casey Foundation, Open Society Foundations, Politico, Democracy Fund, W.K. Kellogg Foundation and Hearst Foundations—to name a few. These funds made it possible for SGJC to launch its innovative Social Justice Reporting Project in 2016, to send students and faculty on research and reporting trips to Athens, Greece; Johannesburg, South Africa; Paris, France and Havana, Cuba; and to underwrite the participation of students and faculty in major, national gatherings of journalists and public relations specialists.
In 2016, Diverse Issues in Higher Education said that SGJC was "arguably…the leader among HBCUs in the field of journalism." In April of this year, SGJC earned full accreditation from the Accrediting Council on Education in Journalism and Mass Communication. In the report following its visit to Morgan, that body's site visiting team wrote the following:
"If the Dean and the Associate Deans (Carl Hyden and Jackie Jones) were not leading the school, it would not have achieved the great progress for which it is now known nationally. Indeed, it is doubtful that the enormous number of outstanding internships that are now available to students and all of the private funding that has been received would have been a reality for the school if these outstanding professionals were not leading the school…Members of the team have done many accreditation reviews in the U.S. and abroad, and the creation and improvement of this school has to be among a handful of the best achievements in the last 20 years."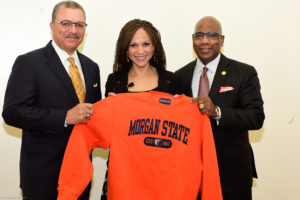 In a journalism career that spanned 45 years, Dean Wickham worked for the Baltimore Sun, WBAL-TV, U.S. News & World Report, CBS News, BET, Black Enterprise, ESPN's The Undefeated, and USA TODAY. His work earned him induction into the National Association of Black Journalists' Hall of Fame. And, in 2012, resulted in his being named a "Fellow of the Society," the highest honor that is bestowed by the Society of Professional Journalists, this nation's largest journalism organization. Other recipients of this honor include legendary journalists Walter Cronkite, Gwen Ifill and Bob Woodward.
In telling me of his decision to end his leadership of SGJC, Dean Wickham said his time at Morgan is the capstone of his journalism career. I responded by saying he is one of the best hires that I have ever made in my career in higher education. In the coming months, I am asking Provost Lesia Crumpton-Young to begin the process of conducting a national search for a new dean to lead the next chapter in the school's history.
I hope you will join me in thanking Dean Wickham for his service to Morgan and in wishing him well as he enters the next phase of his life.
With much respect,

David Wilson
President