Morgan State University is now the home of the 24th chapter of the Sigma Nu Tau Entrepreneurship Honor Society, the national organization recognizing students, faculty members, and entrepreneurs who have either excelled in the study of entrepreneurship or who are an exemplary model of principled entrepreneurship. During a campus visit by Dr. Nancy Church, president and executive director of Sigma Nu Tau, the University was presented with the official chapter induction certificate and MSU students Diara Radway (senior), Alex Howard (junior), and graduate students Michael Cassell and Bisola Gbeieye-Kasim, were initiated.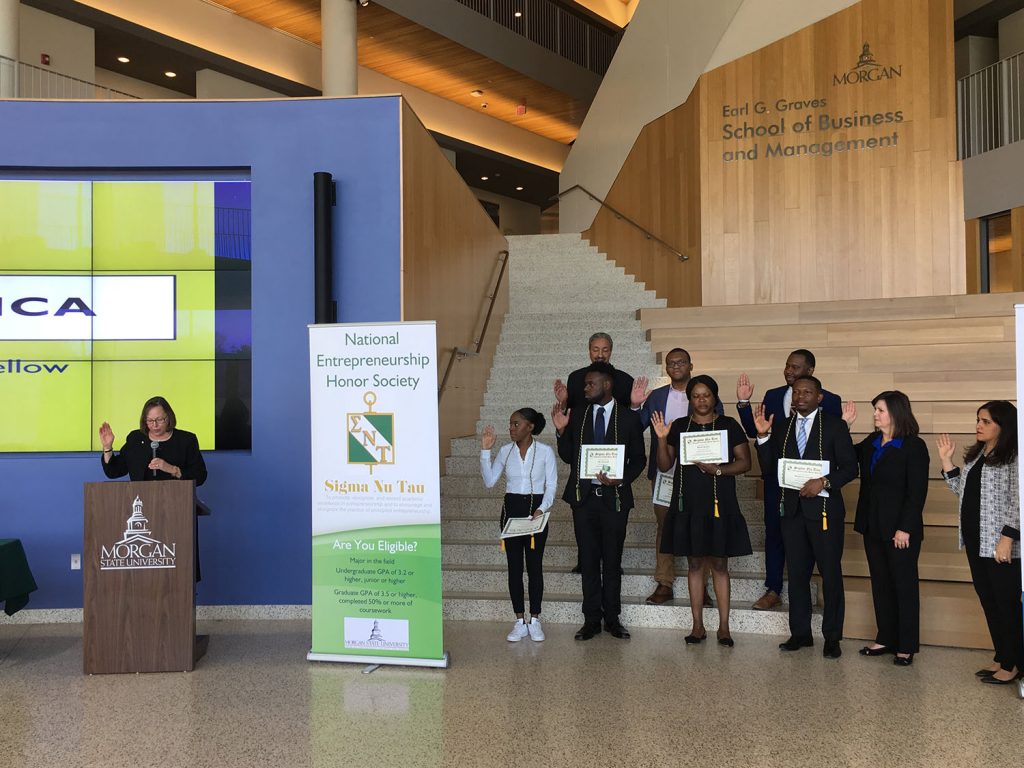 Dr. Fikru Boghossian, dean of the Earl G. Graves School of Business and Management, and Dr. Gloria Gibson, provost and vice president for Academic Affairs, were inducted as honorary members. Two local entrepreneurs, who have served as mentors to Morgan students were also inducted: Chiko Abengowe, founder and CEO of Perfect Office Solutions and Perfect Staffing Solutions, and Marcus Finley, CEO and digital director of FIN Digital.
Membership in Sigma Nu Tau is open to students pursuing a major or minor in entrepreneurship. Undergraduates must be juniors or higher with a cumulative GPA of 3.2 or more; graduate students must have completed 50 percent or more of their coursework and have a cumulative GPA of 3.5 or higher. Students interested in becoming members should contact Dr. Mary Foster or Dr. Golshan Javadian.