Lady Bears Softball Standout Named Woman of the Year, HBCU Div. I Player of the Year, and Softball Player of the Year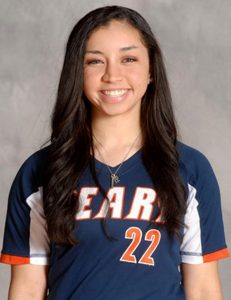 For Morgan State University student-athlete Damali Young three is the magic number, as in she was recently honored with three different accolades for her efforts on and off the field of play. Young, a standout outfielder for the University's softball team, was named by the Mid-Eastern Athletic Conference (MEAC) as its 2019 Woman of the Year. The recognition comes on the heels of the conference having already selected her as its 2019 Softball Player of the Year and recently being named as the HBCU Division I Player of the Year. This past season, Young was instrumental in leading the Lady Bears to the program's third straight 20-plus win season (22-24) and a second-place finish in the MEAC Northern Division at 10-4.
Away from the softball field, Young, who graduated as part of the Spring Class of 2019 this past May with a 3.59 GPA in Construction Management, had been a mainstay on Morgan State's Athletic Director (AD) Honor Roll as well as the MEAC Commissioner's All-Academic Team. In the fall of 2018, she was recognized as a Distinguished Scholar-Athlete, a distinction presented to Morgan student-athletes with GPAs of 3.5 or higher.
"Damali is truly deserving of this recognition, as she has consistently demonstrated what it means to be a student-athlete, setting an example that others can emulate," said Morgan AD Ed Scott, Ph.D. "Her embrace of the culture that we've built at Morgan, where the focus is placed on the 'whole student' as they are challenged to excel in the classroom, in competition and in life, is what we mean when we reference The Morgan Way. Damali did it The Morgan Way and we're proud of her and the accomplishments she has achieved."
When she's not excelling in the classroom or in the outfield, she can be found in the community making a difference. During her time at Morgan, Young has donated money and toys to the Baltimore Animal Rescue and Care Shelter (BARCS) for animals; helped prepare food for the less fortunate as part of Movable Feasts; advocated for Tiny Superheroes, an organization that raises money for ill and disabled children; given time and blood to Gift of Life, a service where DNA and blood are put in a database so that if needed, the donor can be contacted to help save a life; and volunteered with the YMCA/Special Olympics of Central Maryland and the Morgan State SAAC Trunk-or-Treat, a controlled and supervised initiative that involves Morgan students filling their car trunks with candy on campus so that area children could trick-or-treat in a safe environment.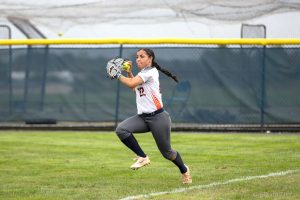 The Woman of the Year award celebrates the achievements of senior female student-athletes who have excelled in academics, athletics, service and leadership. The award recipient is selected annually by the MEAC Senior Woman Administrators Association.
"Congratulations to Damali Young for having a spectacular career, not only on the softball field, but in her academic pursuits as well," said MEAC Commissioner Dennis Thomas, Ph.D. "In addition, her service to the community is truly exceptional. I would like to thank the Morgan State University athletic staff, coaches, academic support personnel and Damali's family, who all had an influential part in her success. I wish her continued success in her future endeavors."
Young, a native of Westampton, N.J., was an offensive machine for the softball team in her final season in the orange and blue, helping the Lady Bears end the season on a season-best six-game winning streak, while winning 14 of their last 17 contests. She was in the top five in the MEAC in slugging percentage (.564), on base percentage (.462), runs scored (47), hits (49), total bases (79), triples (4), walks (28) and stolen bases (31).
She broke four school records this season and tied another one before ultimately becoming Morgan's career leader in runs scored. In all, Young would end her time at Morgan State as the University's leader in 10 categories, including single-season hits (63), single-season doubles (16), single-season at bats (154), single-season stolen bases (40) and career stolen bases (119).
About Morgan
Morgan State University, founded in 1867, is a Carnegie-classified doctoral research institution offering more than 100 academic programs leading to degrees from the baccalaureate to the doctorate. As Maryland's Preeminent Public Urban Research University, Morgan serves a multiethnic and multiracial student body and seeks to ensure that the doors of higher education are opened as wide as possible to as many as possible. For more information about Morgan State University, visit www.morgan.edu.
MEDIA CONTACT(S):
Leonard Haynes, Athletics
(443) 855-3831
Larry Jones or Dell Jackson, University PR
(443) 885-3022