MSU Board of Regents Approves Exclusive New Degrees, Certificate and University Policies at Winter Meeting
BALTIMORE — Morgan State University (MSU) is increasing its unique academic degree program offerings. During the public session of the MSU Board of Regents' virtual winter quarterly meeting, Board members voted unanimously to allow the university to pursue the addition of new degree programs including a dual Higher Education Administration (PhD/MBA), accelerated Information Systems (B.S./MBA) and Human Resources Management (B.S./MBA), an online Doctor of Public Health (DrPH), and an online post-Baccalaureate Certificate in Education Policy for Social Justice. The new program additions expands upon the University's offering of more than 126 academic programs and will become available pending approval from the Maryland Higher Education Commission (MHEC).
The Board also approved the adoption of two new University policies: The Protection of Human Subjects In Research and an Export Control policy.
"We are serious about our charge to develop unique and high-demand degree programs at Morgan that better position our graduates with the highly sought-after skills necessary to compete globally," said David K. Wilson, president of Morgan State University. "When we say that we are Growing the Future and Leading the World, we mean it as a statement of fact. And the ongoing support that we receive from our Board of Regents in the fulfillment of our mission is a tremendous asset."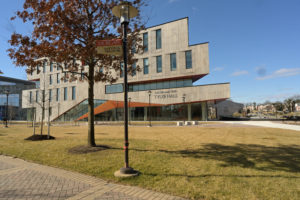 The new dual degree program will allow students to obtain a Master of Business Administration (MBA) from the Graves School of Business and Management and a Ph.D. in Higher Education Administration from the School of Education and Urban Studies (SEUS), simultaneously. The multidisciplinary, collaborative program will prepare students to assume major leadership and research-oriented positions in a wide variety of education-related organizations, including institutions of higher education, research organizations and think tanks, private foundations, nonprofits, school systems, and regional, state or federal government. The exclusive program would be a first among Maryland colleges and universities and Morgan would also be the first HBCU nationwide to offer it.
Having the ability to obtain multiple academic degrees in a reduced time frame has a broad appeal to today's students. To meet this demand, Morgan will offer an accelerated B.S. in Information Systems coupled with a Master of Business Administration. The five-year program offered within the Graves School of Business will prepare students for leadership roles within a wide variety of professions, increasing their marketability to potential employers, particularly within the Information Systems sector. The school also plans to offer an accelerated B.S. in Human Resources with a Master of Business Administration. The graduates from both of these innovative programs will have access to more career options and will enhance their hiring desirability.
Morgan's new online post-Baccalaureate Certificate in Education Policy for Social Justice comes at a time when social unrest and the issues surrounding it have received elevated attention. For aspiring and existing leaders seeking to become change agents making a positive difference, SEUS's new certificate program will prepare participants with theoretical and applied knowledge of the historical and current context of education policy in the United States and the process of policymaking and policy analysis at the local, state and national levels. Currently, there are no graduate-level certificates in Education Policy offered at any Maryland college or university, making Morgan the first to do so.
To add flexibility and expand access to its Doctor of Public Health (DrPH) program for more students, Morgan's School of Community Health and Policy will add an online modality beginning in fall 2021. Offering the program online will attract a group of professionals whose work responsibilities constrain their ability to attend on-campus classes.
"Morgan State University is committed to creating new degree programs that uniquely prepare our students to be highly competitive for the careers of the future," said Lesia L. Crumpton-Young, Ph.D., provost and senior vice president for Academic Affairs. "Our faculty are innovative in their approach to instruction and cutting edge when it comes to the development of academic programs. The addition of these new degrees enhances Morgan's position as a market leader and a destination for degree attainment."
Two new University policies were also voted on and approved by the Board. The Human Subjects Protection in Research Policy will serve to ensure the University's compliance with all applicable laws and regulations pertaining to research involving human subjects. In addition to all research, the new policy will also pertain to all development, training and improvement activities containing a research and development component. The Export Control Policy ensures that Morgan is compliant with all U.S. laws and regulations pertaining to the export of items, services and technology by or on the behalf of the University, this also applies to exports to foreign nationals within the U.S.
Established under Title 14 of the Education Article, Annotated Code of Maryland, the 15-member Morgan State University Board of Regents governs the actions of the university. The governor of Maryland appoints Board members for six-year terms, except for the student regent, who is appointed for a one-year term. The Board appoints the university president, who serves at the pleasure of the Board. The Board also sets admission standards; reviews and approves university policies and budgets; and establishes the regulatory framework within which the individual units operate.
About Morgan
Morgan State University, founded in 1867, is a Carnegie-classified doctoral research institution offering more than 126 academic programs leading to degrees from the baccalaureate to the doctorate. As Maryland's Preeminent Public Urban Research University, Morgan serves a multiethnic and multiracial student body and seeks to ensure that the doors of higher education are opened as wide as possible to as many as possible. For more information about Morgan State University, visit www.morgan.edu.
#  #  #
Media Contact(s):
Larry Jones or Dell Jackson, University PR
(443) 885-3022